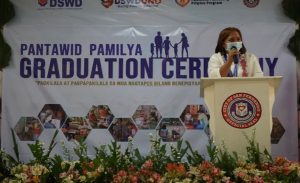 "As we endure the pain from all the sacrifices and struggles in life, the wheel of life continues to roll. Today, you may be at the bottom but do not lose hope. Instead, work hard, persevere, and have faith in God to achieve your goals in life and rise from the bottom," said Lilian A. Castañeda, one of the graduated 4Ps beneficiaries from Barangay Cadaclan, City of San Fernando, La Union.
Lilian could still vividly recall how challenging her family's life was before they became part of 4Ps in 2012. The family's only source of income was seasonal vegetable farming. On a daily basis, Lilian wakes up before dawn to help her husband, Cesar, in the farm. Before the sun rises at six, she has to go back home to prepare breakfast for her three children before they go to school.
Lilian admitted that her heart shatters whenever one of them got sick and they cannot afford hospitalization due to lack of financial capability. Nevertheless, she and her husband never ceased to strive every single day to send their children to school.
Despite these, she still wholeheartedly volunteered in serving her fellow 4Ps beneficiaries without any complaint. She was elected as the 4Ps Parent Leader of her barangay. With the trust and confidence from her members, she was elected as President of the City of San Fernando, La Union Parent Leaders Federation. She spearheaded the launching of income generating projects of the federation which serves as source of financial aid to 4Ps beneficiaries who are victims of disaster or in crisis situation.
On top of her responsibilities as a 4Ps beneficiary and loving mother, she has committed herself to serve her fellow citizens as a Barangay Clerk since 2010 while her husband   reached his 15th year as contractual Utility Worker at the City Hall of San Fernando, La Union in January 2023.
At present, Lilian's eldest daughter, Hannah Lea, is a registered Electrical Engineer and employed as a manager in a famous mall in Taguig City. She was a grantee of the Expanded Students-Grants-in Aid Program for Poverty Alleviation (ESGP-PA) in 2015. Her second child, Haily Mae, is a graduate of Business Administration and currently employed as a human resource officer at an energy corporation in the City of San Fernando, La Union. The youngest child, Hazel Jane, is a third-year student of Bachelor in Electrical Engineer at Don Mariano Marcos Memorial State University Mid La Union Campus, City of San Fernando, La Union.
During the 4Ps Graduation Ceremony on 30 June 2021, Lilian shared how the program helped them achieve the kind of life they have been dreaming of. All the benefits, cash grants, and learnings from the Family Development Sessions were not definitely put to waste. From scarcity to self-sufficiency, the Castañeda Family is now enjoying the comfort of their newly renovated house and a brand-new car. The Castañeda Family proved that they have the will to win the battle against poverty. (by: May-Anne Grace Costales, IPDO for CSOs and inputs by Jaesem Ryan A. Gaces, Information Officer)