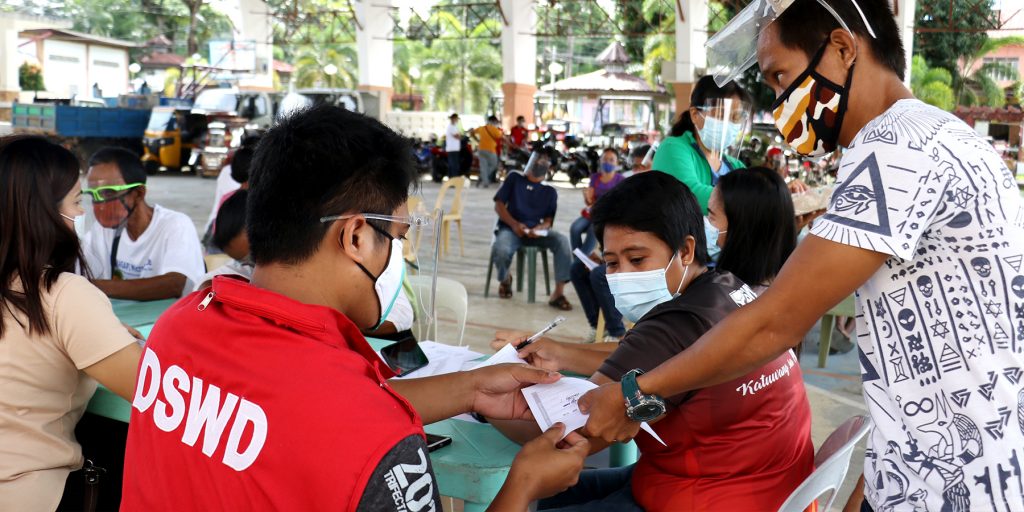 I. Program Overview
The Unconditional Cash Transfer (UCT) Program is the biggest tax reform mitigation program under the Tax Reform for Acceleration and Inclusion (TRAIN) Law or Republic Act No. 10963. It seeks to provide cash grants to poor households and individuals who may not benefit from the lower income tax rates but may be adversely affected by rising prices due to increase in the excise tax of various products.
II. Projects/Services/Activities/Modalities
UCT Program provides qualified beneficiaries cash grants amounting to Two Hundred Pesos (PhP 200.00) per month for the first year of implementation (CY 2018), and Three Hundred Pesos (PhP 300.00) per month for each succeeding year of implementation (CY 2019 & 2020).
For the distribution and payment of UCT cash grants, the Land Bank of the Philippines (LBP) may utilize any combination of the following modes:
LBP Cash Card
Cash card of other authorized banks
LBP Over-the-counter (OTC)
LBP Conduits such as:

Countryside Financial Institutions (e.g. rural banks, cooperative banks)
Cooperatives
Telecommunication Companies (TELCOs)
Remittance Companies
LBP ATMs being managed by other Rural Banks
Other Conduits that the DSWD and LBP may agree upon
The LBP Cash Card is the preferred Mode and shall be utilized whenever possible.
Prior to cash card account opening at Land Bank of the Philippines, UCT Listahanan beneficiaries are required to fill-up the Know-Your-Customer (KYC) form of LBP and submit copies of valid ID and 2×2 ID pictures.
III. Target Beneficiaries
The following shall qualify as Unconditional Cash Transfer (UCT) program beneficiaries:
Households in the Pantawid Pamilyang Pilipino Program (4Ps Households);
Beneficiaries of the Social Pension Program, pursuant to Republic Act No. 7432, otherwise known as the Senior Citizen Act, as amended by Republic Acts No. 9257 and 9994 (Social Pension Beneficiaries); and
Other poor households in the database of the National Household Targeting System for Poverty Reduction (NHTS-PR), provided that they fall within the first to seventh deciles, ranked according to predicted income (NHTS-PR Households).
IV. Eligibility Requirements
The DSWD will determine and identify beneficiaries at the start of the year. Once determined and identified, a beneficiary will become entitled to the UCT Cash Grants for the year despite supervening events (e.g. death of a Social Pension beneficiary before the payout date).
4Ps households shall include beneficiaries of the Modified Conditional Cash Transfer Program (MCCT), which is part of 4Ps.
4Ps households shall also include households which were formerly 4Ps beneficiaries but were delisted for reason of non-compliance with the conditionalities, and not for reason of fraud.
Number of NHTS-PR households will be determined and identified as beneficiaries as the budget for the UCT cash grants would allow, starting with the poorest of the poor; provided, that only those households in the first to seventh deciles of the NHTS-PR database may be determined and identified as UCT beneficiaries even if there are sufficient funds for households in the higher deciles.
A Social Pension beneficiary shall be entitled to a separate UCT Cash Grants even if he/she belongs to a 4Ps household or an NHTS-PR household.
V. Documentary Requirements
Cash Card Enrollment of UCT Listahanan beneficiaries:

Photocopy of any Valid ID (e.g. GSIS UMID, Voter's ID)

2×2 ID picture

Duly accomplished Know-Your-Customer (KYC) form (from LBP)

Over-the-counter payouts:

For grantees appearing personally:

Valid ID (Barangay Certification stating Full Name, Date of Birth, Mother's Name if no valid ID)
Certificate of Name Discrepancy (for beneficiaries with discrepancies in the spelling of names in the presented valid ID vis-à-vis payroll)

For authorized representative:

Grantees unable to appear in payout due to intervening circumstances (e.g., medical condition, working away)

Valid ID of Grantee (Barangay Certification stating Full Name, Date of Birth, Mother's Name if no valid ID)
Valid ID of Authorized Representative (Barangay Certification stating Full Name, Date of Birth, Mother's Name if no valid ID)
Authorization Letter

Deceased grantees

Valid ID of Grantee (Barangay Certification stating Full Name, Date of Birth, Mother's Name if no valid ID)
Valid ID of Authorized Representative (Barangay Certification stating Full Name, Date of Birth, Mother's Name if no valid ID)
Any document showing relationship of deceased grantee to the authorized representative (e.g. Marriage Certificate, Birth Certificate)
Death Certificate of Grantee.
Proof Authority or Special Power of Attorney
VI. Contact Person/s
MELECIO C. UBILAS JR.
Chief Administrative Officer/Policy and Plans Division Chief
(072) 687-8000 local 244
ppd.fo1@dswd.gov.ph
VII. Link