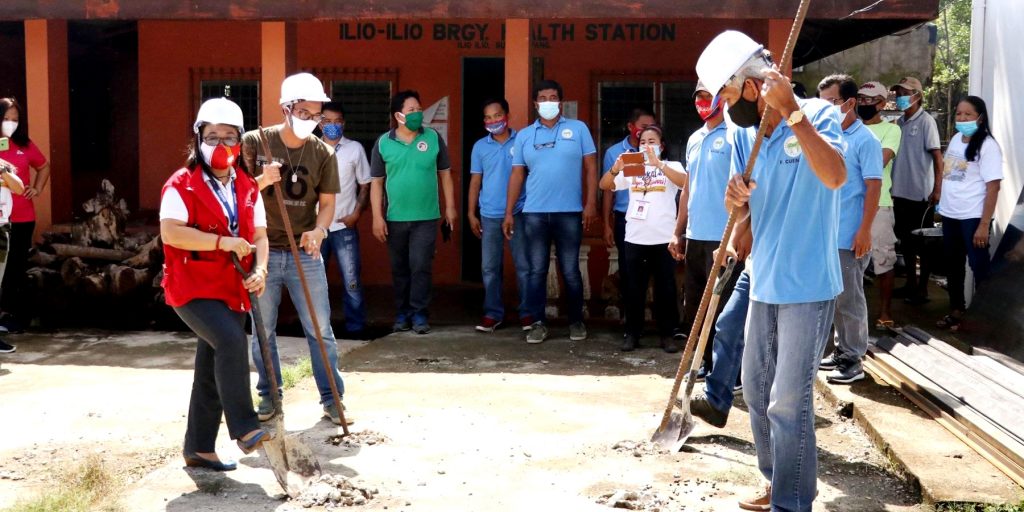 I. Program Overview
WHAT IS KALAHI-CIDSS?
Kalahi-CIDSS, otherwise known as the Kapit-Bisig Laban sa Kahirapan-Comprehensive and Integrated Delivery of Social Services, is one of the poverty alleviation programs of the Philippine Government being implemented by the Department of Social Welfare and Development (DSWD). It uses the community-driven development (CDD) approach, a globally recognized strategy for achieving service delivery, poverty reduction, and good governance outcomes.
Started in 2003, its scale-up was approved on 18 January 2013 by the National Economic Development Authority (NEDA) Board, which was headed by President Benigno Aquino III.
CDD:
Helps communities in poor municipalities identify challenges around reducing poverty and make informed decisions on a range of locally identified options for development, including how this is made and in what form;
Gives control of resources to address local poverty to communities; and
Builds the capacity of both state (including local governments) and civil society stakeholders to provide assistance and respond to calls for support from poor communities as they implement development initiatives.
The development objective of Kalahi-CIDSS is to have barangays/communities of targeted municipalities become empowered to achieve improved access to services and to participate in more inclusive local planning, budgeting, and implementation.
WHAT IS CDD?
Both NCDDP and its parent project Kalahi-CIDSS use CDD (Community-Driven Development) as the over-all community development approach and strategy.
The CDD approach ensures that development priorities are addressed in a participatory, collective, inclusive, and in demand-driven way. This is done through localized decision-making during social preparation activities, and in the identification, development, prioritization, establishment, and operationalization of community projects.
NCDDP will support implementation of the national government current thrust to accelerate achievement of the MDG goals and to halve poverty by 2015. NCDDP shall be able to use the following advantages of the CDD approach in poverty reduction:
Ability of the CDD approach to deliver social, economic and good governance outcomes, proven by the experience and external impact evaluation results of the KALAHI-CIDSS project of DSWD;
Positive economic costs and benefits analysis of CDD-supported KALAHI-CIDSS community projects, showing high overall and sub-project-level economic rates of return;
The acknowledgement in the Philippine Development Plan 2011-16 of CDD as an effective approach in social development programs delivery;
Endorsement of LGU local chief executives of the CDD approach based on their experience in the KALAHI-CIDSS project; and
Ability of the CDD process to coordinate and expedite channeling of local and national government resources into poor municipalities, considering size of poverty and population.
The NCDDP will support Kalahi-CIDSS CDD operation and expansion, as well as integration of CDD with the Human Development and Poverty Reduction Cluster's (HDPRC) Bottom Up Planning and Budgeting (BUB) process in selected municipalities.
Specifically, NCDDP will implement the following:
Institutionalize performance-based CDD support for municipalities that have finished at least 4 cycles of old and existing Kalahi-CIDSS municipalities which have participated in four or more Kalahi-CIDSS funding cycles;
Continue CDD operation in existing KALAHI-CIDSS municipalities and expand into new targeted poor municipalities;
Integrate Kalahi-CIDSS CDD and LPRAP-BUP process in common municipalities of the NCDDP and HDPRC, for more systematized community participation in local poverty reduction action;
Institutionalize capacity building and learning on CDD for community volunteers, partner national government agencies, LGUs, CSOs and other partners;
Support integration of the role of provincial LGUs in Bottom Up Planning and Budgeting and CDD, particularly in provinces with high concentrations of NCDDP municipalities; and
Continue support for the government's DSWD convergence of CCT-CDD-Livelihood Conditional Cash Transfer (CCT) Program by providing needed health and education social infrastructure facilities in target CCT areas, thereby enabling the Program's beneficiaries to comply with the requirements of the conditional cash transfer program.
II. Projects/Services/Activities/Modalities
National Community-Driven Development Program
The National Community-Driven Development Program (NCDDP), is the biggest project under the Kalahi-CIDSS portfolio. In fact, it is the scale-up of the community-driven development (CDD) operations of Kalahi-CIDSS, expanding its coverage from 364 to 847 municipalities.
Its development objective is to have barangays/communities of targeted municipalities become empowered to achieve improved access to services and to participate in more inclusive local planning, budgeting, and implementation.
This was also aligned into a program to support community-driven post-disaster response and development in Typhoon Yolanda-affected municipalities within provinces covered by Kalahi-CIDSS.
It was approved on January 2013 and is supported by the Philippine Development Plan (2011-2016).
Kalahi-CIDSS Kapangyarihan at Kaunlaran sa Barangay (KKB)
KALAHI-CIDSS KKB is implemented under KC-NCDDP. The project focuses on supporting livelihood related priorities of communities that generate and diversify the income of households using the CDD approach. It follows an open menu system where a community can propose projects based on their needs, except for disallowed projects in the Negative List (e.g. weapons, chainsaws, road construction into protected areas, projects/activities with prior sources of committed funding, etc.). KALAHI-CIDSS KKB contributed to the overall objective of KC-NCDDP which is to empower poor communities to achieve improved access to services and increase their participation in more inclusive local planning, budgeting implementation, and disaster risk reduction management.
Payapa at Masaganang Pamayanan (PAMANA)
Kalahi-CIDSS PAMANA is a collaboration between the Department of Social Welfare and Development (DSWD) and the Office of the Presidential Adviser on the Peace Process (OPAPP). In this project, conflict-affected barangays are provided P300,000.00 grants to improve their access to quality basic social services.
PAMANA is the national governments framework and program for peace and development in conflict affected areas.
Additional Financing
KC Additional Financing (KC-AF) is the World Bank-funded bridge financing for Kalahi-CIDSS to support the transition into a scaled up operations. It is currently implemented in183 municipalities in Regions IV-A, V, VI, VIII, IX, X, XI, XII, and CARAGA. It was started in 2010 and will finish by 2014. This 2021, two municipalities in Region 1 will be included.
Kalipunan ng Serbisyong Bayan
In line with Proclamation No. 922 of President Rodrigo R. Duterte, declaring a State of Public Health Emergency, The KALAHI-CIDSS crafted a project proposal entitled, "COVID-19 Community –Driven Development Response" to fully respond to the efforts of the government in helping the vulnerable and marginalized members of our country especially for conflicted-affected areas. KALAHI-CIDSS Kalipunan ng Serbisyong Bayan (KC-KSB) will be using the Disaster Response Operations Modality/Procedure (DROM/P) mode of implementation. Relatively, the covered municipalities will use the R.A. 9184 procurement process applying the guidelines on Negotiated Procurement under Emergency Cases following the rules approved through GPPB Resolution No. 03-2020.
III. Target Beneficiaries
The municipalities identified are convergence areas of the three-core-poverty-alleviation program of the Department, specifically the KALAHI-CIDSS, Pantawid Pamilyang Pilipino Program and Sustainable Livelihood Program.
IV. Eligibility Requirements
The municipal eligibility criteria for the KALAHI-CIDSS NCDDP are as follows:
All previous KALAHI-CIDSS-1, KALAHI-CIDSS Additional Financing, or KALAHI-CIDSS-MCC, which have not yet received four cycles of Barangay Grants financing;
All 4th, 5th, and 6th income class municipalities with a poverty incidence equal to or above the national average of 26.5% and not included in group (i);
All 1st,2nd, and 3rd income municipalities with a poverty incidence equal to or above 40% and not included in group (i);
All municipalities affected by Typhoon Yolanda identified by the National Disaster Risk Reduction and Management Council Situation Report No. 26 of November 18, 2013; and
Municipalities in the ARMM Region are not included under KC-NCDDP. They are covered by a separate CDD program proposed by ARMM.
V. Documentary Requirements
Upon enrolment of the eligible municipalities, these activities should be documented:
Start-up Activities (NPMO Level)

Approval (DSWD and FUND Source)
Request and Processing of Budget to DBM
Issuance of guidelines to RPMOs
Processing of SARO for downloading to FOs
Project Orientation and Planning Activity

Implementation and Social Preparation

MDRRMC Meeting
BDRMMC Feedbacking
Project Proposal Development
MDRRMC/MIAC tech Review
RFR Processing and downloading of Funds
1st Tranche
2nd Tranche

Community-Managed Implementation

Procurement
(Procurement of goods and materials, Reproduction of materials, Hiring of Vehicles)
Sub-project implementation
(Amenities, Refurbishing, Construction, Cash For Work….)

Community Monitoring and Evaluation

Accountability Reporting
Functionality Audit
Turn-over of SPs
Sustainability Planning Workshop

Closing Summation Activities

Closing Community Accounts
Booking of Assets
Municipal Talakayan
Regional Closing of Accounts
National Assessment
VI. Contact Person/s
MARLENE FEBES D. PERALTA
Assistant Regional Director for Operations/Regional Program Manager, KALAHI-CIDSS Field Office I
(072) 687-8000 Loc. 203
oardo.fo1@dswd.gov.ph
VIRGINIA P. SESAY
Social Welfare Officer IV/ Chief, Specialized Programs Division / Regional Program Coordinator, KALAHI-CIDSS Field Office I
(072) 607-8239 / (072) 687-8000 Loc. 232
kalahi.fo1@dswd.gov.ph
JONELL N. ASPIRAS
Regional Monitoring and Evaluation Officer
(072) 607-8239 / (072) 687-8000 Loc. 232
kalahi.fo1@dswd.gov.ph
VII. Links
https://ncddp.dswd.gov.ph/site/download
https://ncddp.dswd.gov.ph/site/contacts
https://www.officialgazette.gov.ph/2020/03/08/proclamation-no-922-s-2020/
https://www.gppb.gov.ph/issuances/Resolutions/GPPB%20Resolution%20No.%2003-2020.pdf