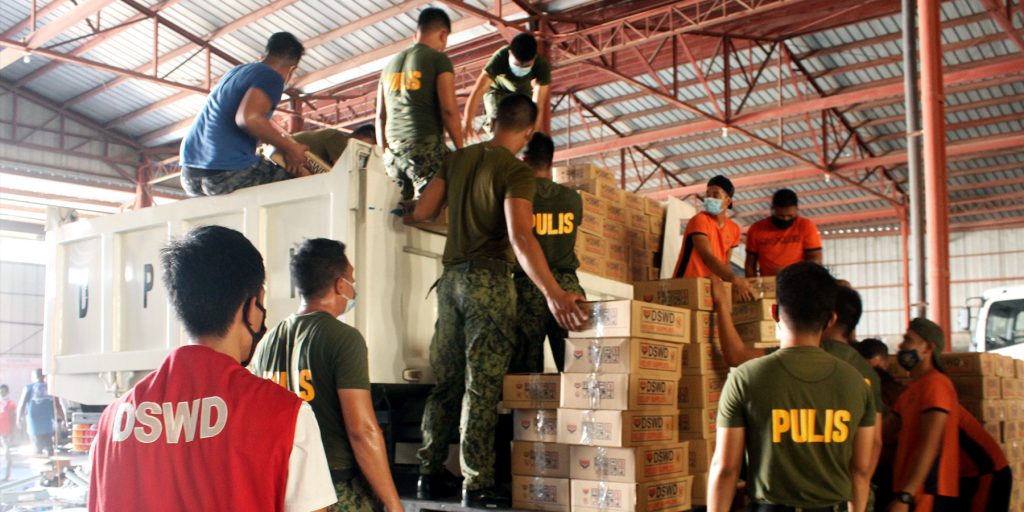 I. Program Overview
The Department of Social Welfare and Development (DSWD) as Vice Chairperson of the Response Pillar of the Disaster Risk Reduction Management Council (DRRMC) and as the lead agency of the Food and Non-Food Items (FNFI) Sub Cluster is mandated to provide augmentation to the shortage of resources of the disaster-affected Local Government Unit (LGU).
The Regional Resource Operations Section (RROS) under the Disaster Response Management Division (DRMD) of the Department ensures the availability, accessibility, and readiness of resources, Food and Non-Food Items (F/NFI), and administrative support necessary before and during disaster operations at all levels.
The operation of the RROS are promulgated in accordance with the Republic Act 10121 – Philippine Disaster Risk Reduction Act of 2010, which supports adherence and adoption of the universal norms, principles and standards of humanitarian assistance and the global effort on risk reduction as concrete expression of the country's commitment to overcome human sufferings due to recurring disasters.
Likewise, the functions of the Section are also supported by DSWD AO-2015-003 – Disaster Response Operations Guidelines of the Department which mentioned that the Field Office shall maintain a standby fund of PhP3,000,000.00 to replenish the required number of relief resources. Likewise, a total of 30,000 FFPs, 1,000 Family Kits, and 1,000 Hygiene Kits as stockpile must be maintained by the Field Office at any given time ready for augmentation to the disaster-affected LGUs and families.
II. Projects/Services/Activities/Modalities
Relief Augmentation
Provision of timely and appropriate support in the form of F/NFIs to augment resources of Local Government Units and families distressed by natural or man-made disasters. One FFP is for a family of five (5) members and good for two (2) days consumption
Family Food Packs (FFPs)
Contents and packaging of FFPs for family of five (5) members good for tow (2) days

6 kilos NFA Rice
2 tins Canned Sardines
4 tins Canned Corned Beef
4 tins Canned Tuna Flakes
5 sachets 3 in 1 Instant Coffee
5 sachets Powdered Cereal Drink
1 piece Regular Slotted Cartoon

Non Food Items

Hygiene Kit
Provisions for personal hygiene and toiletries for one (1) month consumption following the standard composition set by the Department of Health (DOH). This will be distributed in aid of DOH provision when the requirement of the affected families exceeds DOH resources.

5 pieces Toothbrush
2 pieces Toothpaste
1 bottle Shampoo
4 pieces Bath Bar Soap
2,000 grams Laundry Bar Soap
4 packs Sanitary Napkin
1 piece Comb
1 piece Disposable Shaving Razor
1 piece Nail Cutter
1 piece Bathroom Dipper
1 piece 20L Square Plastic Bucket with Deep Cover and Plastic Handle

Kitchen Kit
Provisions for cooking utensils as support for the everyday food preparation of the affected families.

5 pieces Spoon
5 pieces Fork
5 pieces Drinking Glass
5 pieces Plate
1 piece Frying Pan
1 piece Cooking Pan
1 piece Ladle
1 piece Packaging Material

Sleeping Kit
Provision of sleeping kits materials for protection of the affected families during their displacement.

1 piece Blanket
1 piece Plastic Mat
1 piece Mosquito Net
1 piece Malong (Wrap cloth)
1 piece Packaging Material

Family Clothing Kit
Provisions for brand new clothing, towel and underwear garments to children and adults.

5 pieces Bath Towel
2 pieces Ladies' Panty
3 pieces Girls' Panty
2 pieces Men's' Brief
3 pieces Boys' Brief
2 pieces Sando Bra, Adult
3 pieces Sando Bra, Girls'
4 pieces Adult T-shirt
6 pieces Children T-shirt
4 pieces Adult Short Pants
6 pieces Children Short
2 pairs Adults Slipper
3 pairs Children Slipper
1 piece Packaging Material
III. Target Beneficiaries
Local Government Units, families, and individual persons affected by disaster.
IV. Eligibility Requirements
Poor or deprived individuals or families affected by a disaster
Registered or included in the official list of evacuation centers
V. Documentary Requirements
Letter of Request
Disaster or Incident Report indicating the number of disaster-affected population and the affected areas
Masterlist of affected families
VI. Contact Person/s
MARICEL S. CALEJA
Social Welfare Officer IV / OIC-Chief DRMD
(072) 687 8000 loc. 208
drmd.fo1@dswd.gov.ph
FREDERICK T. JARAMILLO
Manpower Development Officer I/ Head, RROS
(072) 687 8000 loc. 208
rros.fo1@dswd.gov.ph