I. Program Overview
Republic Act (RA) 10410, otherwise known as the Early Years Act of 2013, declares that it is the policy of the State to promote the rights of children to survival, development and special protection with full recognition of the nature of childhood and as well as the need to provide developmentally appropriate experience to address their needs; and to support parents in their roles as primary caregivers and as their children's first teachers.
The law mandates the institutionalization of a National System for Early Childhood Care and Development (ECCD) that is comprehensive, integrative and sustainable, that involves multisectoral and interagency collaboration at the national and local levels among government; among service providers, families and communities, and among the public and private sectors, non-government organizations, professional associations, and academic institutions.
Further, Section 3 of the National ECCD System on its objectives aims: to upgrade and update the capabilities of service providers and their supervisors to comply with quality standards for various ECCD program; and to improve the quality standards of public and private ECCD programs through, but not limited to, a registration and credential system for ECCD service providers and facilities. Hence, the development of guidelines on Registration and Granting of Permit and Recognition to Public and Private Child Development Centers (CDCs) / Learning Centers (LCs) Offering Early Childhood Program for zero (0) to four (4) years old Filipino Children.
II. Projects/Services/Activities/Modalities
Shown below is the CDCs / LCs recognition process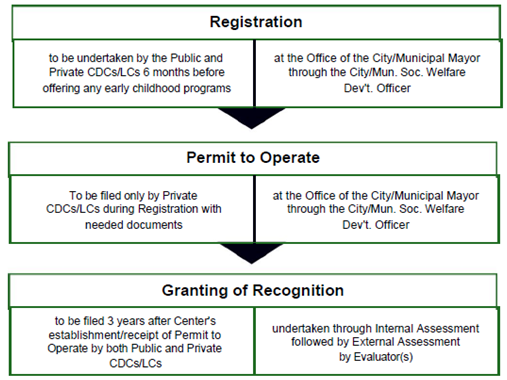 III. Target Beneficiaries
Private and Public CDCs
IV. Eligibility Requirements
Registered from the City / Municipal Social Welfare and Development Office;
With issued permit to operate for private CDCs; and
Request letter from the City / Municipal Social Welfare and Dev't Office for external assessment to CDCs ready for accreditation.
V. Contact Person/s
MELECIO C. UBILAS JR.
Chief Administrative Officer/Policy and Plans Division Chief
(072) 687-8000 local 244
ppd.fo1@dswd.gov.ph
NARESSA GARVIDA-AGUINALDO
Project Development Officer III
(072) 687-8000 local 244
standards.fo1@dswd.gov.ph
AGNES TAMBALO
Project Development Officer III
(072) 687-8000 local 244
standards.fo1@dswd.gov.ph