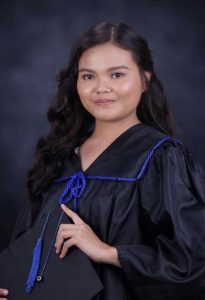 Jacqueline E. Salvacion landed in the Top 5 among the 24,819 passers for the Licensure Examination for Elementary Teachers in March 2023. This made her the second Professional Teacher in her family.
Jackie, as commonly called, is a former 4Ps beneficiary and the second among the nine children of Jimmy and Janet from Badoc, Ilocos Norte. Jimmy is a farmer while Janet is a housewife. "Our family is simple but a big one. We are close and very much comfortable with each other that we can even share our most embarrassing experiences," Jackie described her family.
Being a 4Ps beneficiary comes with a price. Jackie and her family heard negative comments that they do not deserve to be part of the program. Knowing the truth, they did not mind these criticisms, instead used them as inspirations to succeed by excelling in school becoming a role model child in their barangay.
Jackie is thankful to the program for the financial help it provided her family. But more than the cash grants, she is grateful to the monthly Family Development Sessions (FDS) because not only had her mother gained additional knowledge but also the whole family. "Some FDS activities also served as our bonding time since all the members of our family are involved," she attested.
Believing that quality education will lift her family out of poverty, Jackie invested her time in her studies. From an early age, she has been an achiever as she graduated elementary with Distinction, high school With High Honors, and college Magna Cum Laude from Mariano Marcos State University, Laoag City, Ilocos Norte.
Landing in the Top 5 came as a surprise. "Honestly, hindi ko po inaasahang makapapasa ako. Ang alam ko nga po ay hindi ako makapapasa kasi nahirapan po talaga ako sa exam (Honestly, I did not expect to pass. I thought I won't be able to pass because I really struggled with the examination)," she narrated. But her stars have aligned, and the fruits of her hard work paid off after hearing the results.
Now, Jackie is a full-fledged teacher. "I already harvested the fruits of my sacrifices for doing my very best. I chose teaching as a profession because I want to make a difference in the lives of my learners. I want to help transform their lives into better ones as they start building their own dreams," she said.
Jackie wants to inspire young children, especially those who are living in poverty to never use it as an excuse to not dream and succeed. She hopes to encourage the young to never doubt themselves. "In life, we cannot avoid that there are people who doubt our capabilities and do not believe in us. Some even mock us while we are reaching for our dreams. But even so, do not be discouraged. Never let problems hinder you from succeeding. There are many things you can do to solve that problem; you just have to look for them," she tearfully shared.  (by: Arlem Kenneth R. Areola, Project Development Officer II for NGAs and Jaesem Ryan A. Gaces, Information Officer II)