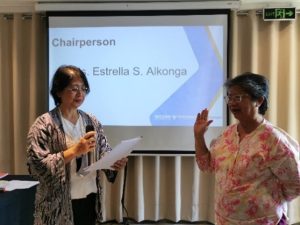 The Department of Social Welfare and Development Field Office 1 (DSWD FO 1) – 4Ps Regional Program Management Office presents the pioneer officers of the newly established Regional Independent Monitoring Committee (RIMC) namely: Chairperson Estrella Alkonga; Vice Chairperson Pastor Roger Ribucan; and Ms. Vilma Dominga Castro as the Secretariat. The RIMC is composed of nine members from different Civil Society Organizations (CSOs) with active engagement in the Region.
In her acceptance speech, Chaiperson Alkonga stressed camaraderie and collaboration among the members saying, "The success of the RIMC lies in the hands of everyone."
Moreover, DSWD FO 1 Regional Director Marie Angela S. Gopalan challenged the RIMC members to use the lens of the National Government in their monitoring activities. "Part of our work is to provide technical assistance to the Local Government Units so that they will be more effective in responding to the social economic issues of their community," Director Gopalan added.
RIMC is established to serve as a third-party to complement the monitoring activities of the DSWD to ensure effective and efficient implementation of 4Ps in Region 1. This is stipulated in the Section 16 of the Republic Act No. 11310 or 4Ps Act that an Independent Monitoring Committee shall be created at the regional and national levels composed of representatives from the private sector and CSOs. Its establishment is aligned with the DSWD's policies on transparency, accountability, participation, equity, and quality assurance.  (by: Jaesem Ryan A. Gaces, Information Officer)