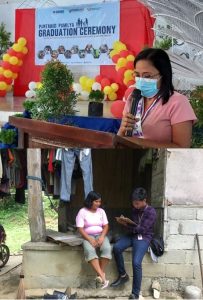 "Aglaok a ragsak ken liday ti marikriknak nu sublianak dagiti kapadasanmi idi awan kami pay ti 4Ps (I feel mix of joy and solitude as I look back our experiences when we were not yet part of 4Ps)."
This is how Marife Ligsay, 48, and one of the exiting beneficiaries emotionally started her message during the 4Ps Graduation Ceremony in Paoay, Ilocos Norte (top photo).
4Ps paved the way for Ligsay Family to stand the test of time and find strength to overcome the challenges in achieving an improved level of well-being.
Marife proudly shared that she considers June 2017 as the family's greatest milestone when Ley, the eldest, successfully finished Bachelor of Science in Sociology. Ley, 26, is now one of the DSWD Field Office 1 – 4Ps workforce as a Municipal Link since January 2018 (bottom photo).
Ley took the responsibility of solely supporting the studies of his sister, Angelica, who is already a Licensed Chemical Technician since 25 October 2022. Meanwhile, Renz Jerome, 20 and the youngest, is currently on his second year in college taking up Bachelor of Science in Criminology.
Due to extreme poverty, Marife never thought of Ley finishing college even in her wildest dream. Marife and her husband Marlon, worked as seasonal house helpers to be able to support their children's daily needs and school expenses. Due to lack of education, the couple had hard time looking for high paying jobs. Most often, they resorted to farm jobs and were left with no choice but to bring with them their children just to have additional income.
Despite these trying times, Marife is still thankful to God because this situation taught their children to be responsible. Even at a young age, her children sell rice cakes in school canteens and accommodate their classmates' school projects in exchange of money to earn extra allowance. No wonder that Ley deeply values hard work and eventually became the family's breadwinner. "It is a must to dream big and for me, 4Ps is one of my family's greatest driving force to hold on and never lose hope," Ley articulated.
"Umapalak kadagitay classmates ko ta uray padami a marigrigat ket piliten latta isuda dagiti nagannak da nga agbasa. Ngem inbaga kaniyak dagiti nagannakko nga awan pagpabasada kaniyak (I envy my classmates because despite of being poor like us, their parents still push them to study. But my parents told me that they cannot support my studies)." According to Marife, these are the words of Ley when she told him that she might not be sending Ley to college.
Marife recalled that while Ley was working in his part time job at a photo exhibit, a Student Council Officer approached him and referred him to a scholarship program. This sparked hope and eventually lightened Ley's burden to financially support his studies as he began receiving monthly allowance. Ley also earned extra income with other simultaneous jobs while studying.
During the 4Ps Graduation Ceremony, Marife expressed her heartfelt gratitude to the program that became an instrument to improve the life of all the beneficiaries especially their family. She believes that through the Family Development Session, she was able to realize the importance of investing in her children's education while maximizing the cash grants they receive. For her, education is what she can only inherit to her children so they will surely experience a better quality of life in the future. "Usaren tayo nga armas dagiti arapaap dagiti annaktayo tapnu aggaget tayo a manggun-od iti nasaysayaat a panagbiag (Let us use the aspirations of our children as a weapon for us to never lose hope in achieving a better life)," Marife uttered. (by: Arlem Kenneth R. Areola, Project Development Officer II / NGA Focal Person)