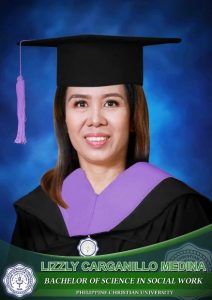 "Nagbigay daan ang 4Ps upang ako ay mahikayat na mag-aral muli. Bilang isang dating Parent Leader, nakita ko kung paano nabago ang buhay ng isang mahirap na pamilya sa pamamagitan ng mga Social Worker na gumabay sa amin." (4Ps motivated me to study again. As a former Parent Leader, I saw how the lives of poor families were changed for the better through the help of Social Workers who guided us)," Lizzly C. Medina shared.
Being naturally outspoken and empowered, Lizzly was chosen as one of the Parent Leaders (PLs) of Barangay San Pablo, Balaoan, La Union. She has been very active in guiding her fellow beneficiaries in all their activities. With her leadership, the first-ever Bio-Intensive Garden (BIG) in the whole municipality was established. With her outstanding performance as a Parent Leader, Lizzly was then selected as the Parent Leader Advocate of Balaoan, La Union, which opened more opportunities to further develop her leadership skills as she attended several trainings conducted by the DSWD Field Office 1.
Despite finding joy in serving her fellow beneficiaries, Lizzly realized that she wanted more for her family. Unknowingly, her potentials were seen by the Municipal Links assigned in their municipality. They believed in her capabilities so they motivated her to become part of the DSWD FO 1 – 4Ps workforce. Without any second thought, she accepted the challenge and was eventually hired as a Social Welfare Assistant (SAW) deployed at Binmaley, Pangasinan 4Ps Municipal Operations Office in July 2015. Being away from her family for the first time was extra challenging. Nonetheless, she endured the longingness because of her eagerness to provide a comfortable life for her children.
Two years as SWA, she witnessed how noble the Social Work profession is. Thus, picturing herself as a Registered Social Worker. In 2018, she finally had the courage to pursue Bachelor of Science in Social Work at Philippine Christian University. Her academic journey was a whirlwind due to financial issues and conflicting schedule in school and work. Her family was left with no choice but to set aside their wants to prioritize her's and her children's tuition fees. Attending school after work, tiring days, and sleepless nights were her greatest battles to win her dreams.
After four long years, she reaped the fruits of her sacrifices as she triumphally marched on stage in August 2022. Finally, she holds her diploma in her hands and her dreams are within reach. She did not waste time and courageously took the licensure examination after her graduation. The Social Work profession is really destined for her. "Nakamit ko na ang dati ay pangarap lamang – ang maging isang Registered Social Worker (I have already achieved the dream I once had – to become a Registered Social Worker)," Lizzly testified after successfully passing the licensure examination in September 2022.
With this blessing, she cannot help but rejoice and be proud of her household's humble beginnings. Looking back, Lizzly was just a simple housewife before becoming part of the 4Ps in 2012.
Recalling all the hardships and challenges she went through, only words of gratitude is all she can utter as tears of joy roll down her face. Indeed, a dream will remain a dream if one does not have the will to make it into reality. (by: May-Anne Grace Costales, Project Development Officer II / CSO Focal Person)