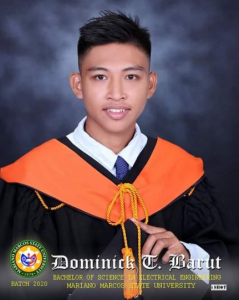 Engr. Dominic T. Barut is an addition to the increasing number of Pantawid Pamilyang Pilipino Program (4Ps) children beneficiaries of the DSWD Field Office 1 who are now licensed professionals in their own chosen field of specialization.
22-year-old Engr. Dominic is the eldest among the five children of Ronelio, 51 and Winnie, 44 from Brgy. Isic-isic, Vintar, Ilocos Norte.  Ronelio strives to make both ends meet as a farm laborer while Winnie is a plain housewife. Coming from a family who barely affords to sustain their basic needs, he always pictured a better future for his family. With that, Engr. Dominic always excel in school and set a good example to his siblings. Growing up with academic excellence, he consistently received high recognition and honors.
Ronelio and Winnie are beyond blessed of having a responsible and smart son. "Napag-aralan namin sa Family Development Session na ihanda dapat ng mga magulang ang kanilang mga anak para maging matatag sa anumang hamon ng buhay. At ang tanging paraan paano ito gawin ay ang suportahan ang pag-aaral ni Dominic. Dahil sa nakikita namin ang kaniyang pagpupursigi, hindi kami bumitaw sa pagkayod para masigurado ang maliwanag niyang kinabukasan (We learned through the Family Development Session that parents should prepare their children to become strong in all challenges in life. And the only way to do this is to support the studies of Dominic. Because we recognize his determination, we never ceased to work hard to ensure his bright future)," Winnie emotionally narrated.
Engr. Dominic had to leave his hometown to pursue his dream of becoming an Electrical Engineer at the Mariano Marcos State University (MMSU), Batac City, Ilocos Norte. Being away from his family, which he considered as the center of his universe was one of the biggest adjustments he had to face. "I have never left home for so long. I experienced severe homesickness which almost defeated me", he recalled. Being temporarily separated from his parents at a very young age was very challenging for him.
"I always put my family first. They are the most important people in my life," Engr. Dominic said. Fueled with determination to provide a better future for his family, he diverted his attention to basketball in order to defeat homesickness. This way, his thoughts of going back home would not distract him from achieving his dreams. The support and trust of his family overpowered the negativity that is fostering on his mind during that time. His utmost desire to go home with flying colors overpowered all distractions.
Engr. Dominic considers school days as one of the most wonderful moments of his life. Scarcity turned to bounty when he became an Expanded Students' Grants-in-Aid Program for Poverty Alleviation (ESGP-PA) grantee in 2014. "I am grateful and blessed that I am among the student grantees. Through the financial support I received, my burden on the school expenses was lessened. So, I enjoyed my college days as I chased my dreams. ESGP-PA paved the way for me to achieve my ultimate success," he tearfully testified.
All his sacrifices paid off the moment he saw his name on the list of successful passers in the 2022 Licensure Examination for Electrical Engineers. His license is a concrete testament on how he was able to overcome every obstacle in his life as a student, as a boy away from home and as a child from a very poor family. With his diploma and license on hand, his dream for his family is already within his reach.
Engr. Dominic's message to his fellow youth, "Do not waste every opportunity that comes your way. In due time, you will reap the fruits of your efforts and late-night reviews." (by: Arlem Kenneth R. Areola, Project Development Officer II- NGA Focal Person)