In the midst of the pandemic due to the Coronavirus Disease – 2019 (COVID-19) outbreak, mass gatherings are prohibited which include attendance to Family / Youth Development Sessions (FDS) of Pantawid Pamilya beneficiaries to protect them from being infected.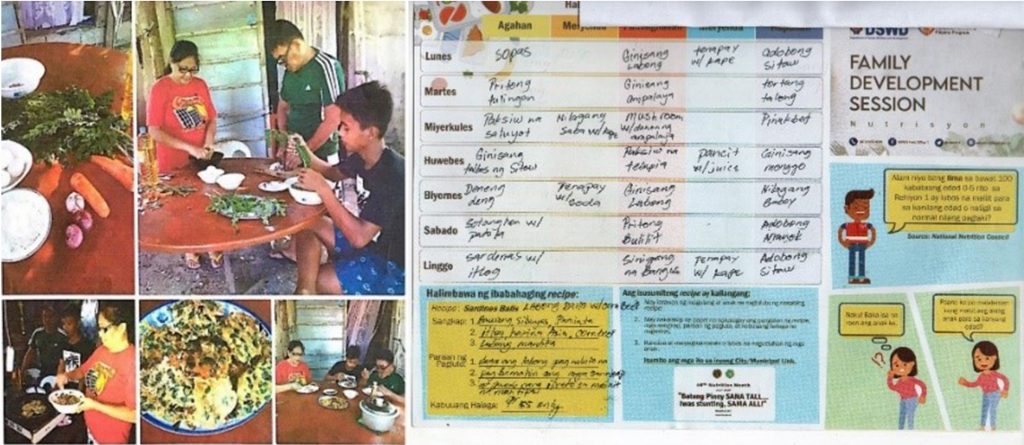 To sustain the learning process among beneficiaries despite community quarantine and the absence of face-to-face set up, the Regional Program Management Office initiated the idea of continuing FDS by providing easy-to-grasp materials dubbed as Pantawid Pamilya Komiks. It contains thematic topics with easy-to-follow assignments to be accomplished in the comfort of the beneficiaries' own homes.
Each household is tasked to submit their outputs to the City / Municipal Operations Offices to gauge their learnings on: July – Nutrition; August – Breastfeeding; September – Health, Safety, and Sanitation; October – Indigenous Peoples; November – Mental Health Awareness; and December – Human Rights. All of which are being introduced by a learning vector named "Angel" in red vest.
For the month of July, some households shared their simple but nutritious food recipe such as bamboo shoot spaghetti, fish nuggets, malunggay bola-bola, carrot and malunggay omelet, vegetable siomai, lumpiang sardinas, turmeric fried chicken, blasted horse radish, among others. The beneficiaries submitted their photos while preparing and enjoying the food which the family prepared together.
According to the beneficiaries, their bonding time was made productive and meaningful, it is not the dish that matters but it is the strengthening of relationship. They gladly shared that their resourcefulness was enhanced, cooking skills were unleashed, the importance of backyard gardening realized, and were able to apply their learnings from the previous FDS sessions. (by: Jaesem Ryan A. Gaces, Pantawid Pamilya Information Officer)