My dreams are as high as the stars in the sky. I may not have everything, but I am certain that I am on the right track to reach for my star.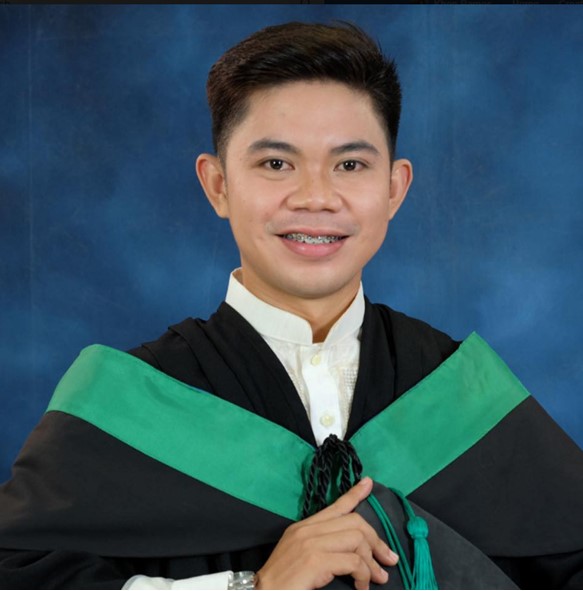 That is Jayson Novelozo's reminder to himself whenever he feels discouraged.
Jayson is one of the Expanded Student's Grants-in-Aid Program for Poverty Alleviation (ESGP-PA) graduates for the Academic Year 2019-2020 under the Bachelor of Science in Agriculture at Don Mariano Marcos State University – North La Union Campus (DMMMSU-NLUC).
Poverty has made him feel that his stars are way too far to reach and earning a college diploma seems to be impossible.
Coming from a family with elder siblings who never entered college, he thought that his destiny cannot be changed.
Nonetheless, entering college has been Jayson's ultimate goal in life. The road to his dream took him a while, but now, he has achieved it.
As he looked back, after finishing high school, he decided to stop schooling and work to support his family and earn for his college tuition fees. Jayson then worked as a factory worker in Laguna from 2013 to 2014. His meager salary barely provided his basic needs. Thus, he decided to go back to his family in Bacnotan, La Union.
Jayson never stopped finding ways to make ends meet. In 2015, he worked as an Enumerator during the Listahanan second round of household assessment of the Department of Social Welfare and Development Field Office 1 (DSWD FO 1). This provided him opportunity to support his family as well as to save for his college education.
With sadness, Jayson shared his experiences emphasizing the difficulties of going to school without any financial support from his family. According to him, "There were times that I wanted to give up because I do not have enough allowance and need to borrow from my classmates. I also sought the help of my father but he was not able to support me. I cannot help but cry and seek for God's guidance."
It was indeed an answered prayer when Jayson was chosen as one of the ESGP-PA grantees. "I am so much privileged as an ESGP-PA grantee because it is a guarantee that I will be able to finish college. I enjoyed free tuition and other school fees, paid extra-curricular expenses, and most of all, received monthly stipend. It also developed my social and leadership skills which I think honed me for the future," he narrated.
Considering as his greatest achievement, Jayson was chosen as one of the Student Interns in Israel in 2018. He said, "I considered this experience as my biggest achievement so far because at a young age, I was given the chance to work and study abroad. I met friends whom I considered as family. I went to places that I never thought I can visit. I earned money while studying which made me realize that working hard will lead me to a better future someday."After months of stay, Jayson went back to the Philippines with a lot of lessons from his stay in Israel.
During his last year in college, Jayson was again given an opportunity to be deployed as a trainee at the Bureau of Soils and Water Management in Quezon City. He was able to experience receiving salary which made him even more eager to pursue his dream to earn a college diploma and provide a better life for his family.
Jayson's star may be as far as he can imagine before. But with determination, hard work, and faith in God, his star is now within his reach. With his graduation photo, it cannot be denied that Jayson shines the brightest among all the stars. (by: Arlem Kenneth R. Areola, PDO II,NGA Focal/Pantawid Pamilya)