"Kasla agkinnontra ti "darang" ti biag ken ti trabahok. Ti biag, I keep the fire burning. Ditoy trabahok, ag-prevent ken agsebseb kami ti darang. But in life and work, fighter ak (The "fire" in my life is in contrary with my work. In life, I keep the fire burning. At work, I literally prevent and put out fire. But in life and work, I am a fighter)."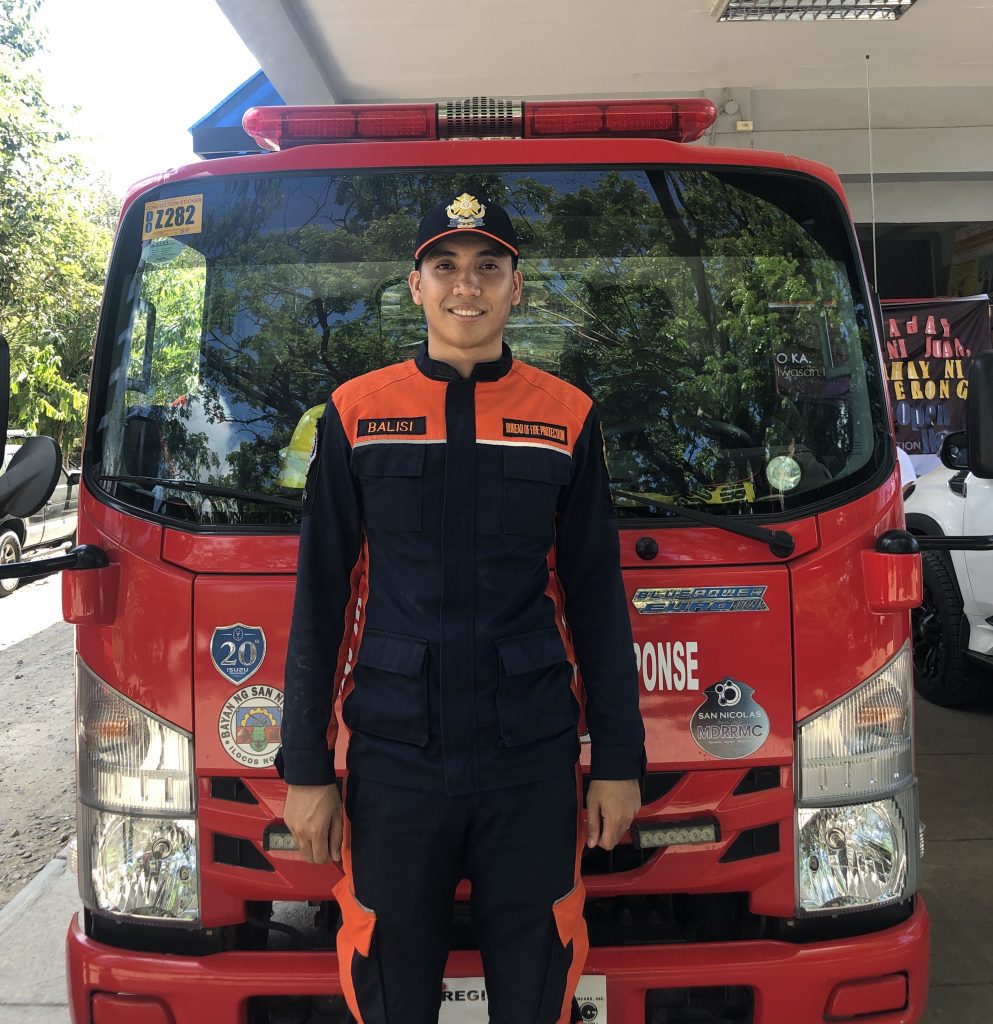 Tracing Jayzelle Galius Cariaga Balisi's background, we can't agree less of him being a fighter. During Jayzelle's childhood, their family has to fight poverty for him and his two siblings to go to school. "Aglaklako ti karne ti baboy ken bagoong ni papang diay Cagayan, Barangay Health Worker met ni Mamang diay ayanmi. Saandan nga agdindinna (Our father sells meat and fish paste in Cagayan while our mother is a Barangay Health Worker in our hometown. They are not living together anymore).''
He was all smiles as the interview went on that we almost forgot that he just got back to the Fire Station after a series of fire prevention advocacy campaigns to the different barangays of San Nicolas, Ilocos Norte on a sultry afternoon.
Although their parents decided to live separate ways, their parental responsibilities are still fulfilled. "Uray no kasdiay ti sitwasyonmi, insurodakami nga agbalin a nasisingpet nga annak ken agyaman no anya man ti adda kadakami. Proud kami kadagiti hardworking parents mi (Despite our family condition, we were taught to become good children and be thankful of whatever we have. We are proud of our hardworking parents)."
Their family was identified as a Pantawid Pamilyang Pilipino Program beneficiary of the Department of Social Welfare and Development. It has been one of their strongest weapons in fighting the battle.
Government's aid to Balisi family has paid off. In 2015, Jayzelle finished his Bachelor's Degree in Criminology as Cum Laude. Doubling the pride, his younger sister who also graduated with the same course in 2019 is also a Cum Laude. Their youngest, who aspires to become a Social Worker, is on his first year giving his best to follow the academic footsteps of his older siblings — victors in the field of education.
Jayzelle wasted no time and took the Criminologist Licensure Examination in October of the same year. While waiting for the results, he looked for any job available so he could start helping his family. He was hired as a Sales Associate of a shoe brand in a mall in Ilocos Norte. "Masapol nga anosan ti agtakder iti 8 hours a mang-assist ken manglako kadagiti customers. Ngem ti un-unegko, maragsakannak ta uray PhP253.00 laeng ti inaldaw a sweldok, adda gastoek para iti bagik ken adda maited ko jay balay uray bassit (I had to endure standing for at least 8 hours assisting and convincing customers to buy. But at the back of my mind, I was happy that despite my daily pay of PhP253.00, I could already provide for myself and my family even a bit)."
There is always passion, love, and positivity in his words. "Training ko met ketdi jay pinagtaktakder ko jay mall. Usually ngamin no safety frontliner ket kanayon nakatakder (Standing at the mall served as my training. Safety frontliners are usually standing)," he said.
He passed the licensure exam but continued his job at the mall to help his family finance his requirements in landing a job suited for his profession. "Adda latta iti DSWD para kadagiti pada ti pamilyak nga agkasapolan (DSWD is always there for families like ours who need help)," he added. Jayzelle became an Employment Facilitation (EF) beneficiary under the Sustainable Livelihood Program (SLP) receiving PhP5,000.00 cash assistance in 2016. The EF is the Program's track that assists qualified participants seeking employment. Activities under this track include employment guidance and orientation, technical-vocational and skills trainings, and job referrals or placement, among others.
In April 2017, he was hired as a job order prison guard at the provincial jail. Jayzelle excelled at work, but since his supervisor could not ensure security of tenure because there was no permanent position available, his supervisor advised him to apply at the Bureau of Fire Protection. Jayzelle took the challenge. Through sheer determination and passion to serve the people, he was then immediately hired as a permanent staff. Since October 2018, Jayzelle has been saving people's lives as a Fire Officer.
Now, Jayzelle serves as the breadwinner of the family. He was able to have their home in Badoc renovated, helps in acquiring his sister's requirements in landing the same job as he is, and assists in the education of their youngest.
Life is full of varied battles we need to win. For Jayzelle, winning is the only option.
When asked about his current battles, "LDR kami jay asawak. Kakaskasarmi di January. Ngem nalaka laeng a battle ta loyal nak met (I am in a long distance relationship with my wife. We got married just this January. But that's an easy battle because I am loyal)," he giggled. "Adda ti narigat a pannubok ngem adda met dagiti nalalaka. Ngem nalaka amin ta adda met ni Apo. Siguro faith ti kapigsaan nga armasko ti biag (There are hard battles and there are easy ones. But everything becomes easy because of God. Maybe faith is my strongest weapon in life)."
The firetrucks in front of us started to alarm and our firefighter needed to respond to another emergency call. (by: Janine Joy B. Altero, Social Marketing Officer, Sustainable Livelihood Program)