As part of the 10th year celebration of the Pantawid Pamilyang Pilipino Program successful implementation, the Department of Social Welfare and Development Field Office 1 (DSWD FO 1) recognized and awarded all partner-agencies that have endlessly supported the program's endeavors. Commendable partner-beneficiaries who intensely live by the ideals of the program and have shared remarkable contributions for the development of their communities were also acknowledged.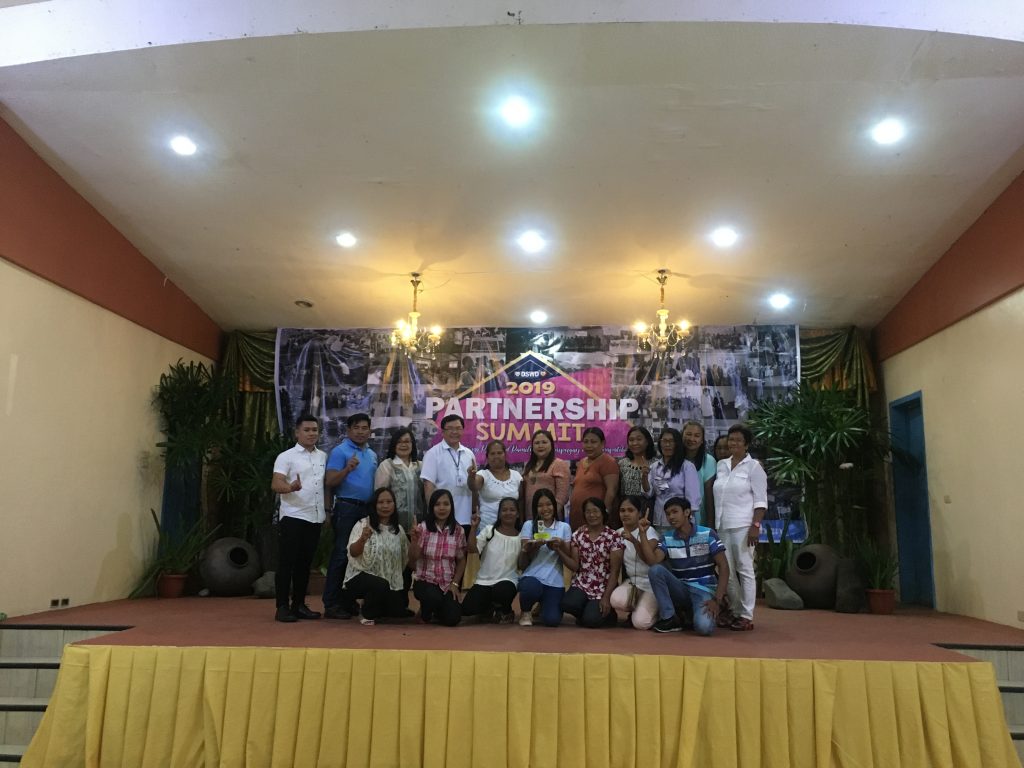 This first ever Partnership Summit with the theme "Isang Dekada ng Pantawid Pamilya: Pagpupugay at Pagpapatibay" was conducted to enable the partner-implementers and co-implementers to have a deeper sense of co-ownership of the program; to sustain a good working relationship with the beneficiaries and other stakeholders; and to broaden the program's scope of networking.
National Deputy Program Manager Gemma B. Gabuya emphasized in her message relayed by DSWD FO 1 Regional Director Marcelo Nicomedes J. Castillo that the approval of Republic Act 11310 also known as 4Ps Act on 17 April 2019 is just in time and is a great milestone worthy of celebration.
"DSWD alone will not be able to reach such accomplishments without the unwavering support of its program partners who voluntarily engaged with the program in various areas of partnership," Dir. Gabuya said.
Ms. Wilma Ulpindo, Planning Officer IV of the Commission on Population and Development (PopCom) Region 1, and Mr. John Chester Erestingcol, Economic Development Specialist I of the National Economic and Development Authority, were awarded as the Most Active Regional Advisory Committee (RAC) Members.
"Working with Pantawid Pamilya brought me to places I have never been and encountered beneficiaries with different problems that PopCom can intervene. We made follow-ups, home visits, and referred them to the Local Government Units for possible provision of interventions and other services. This is the most exciting part of every RAC On Site Monitoring," Ms. Ulpindo passionately shared.
Mariano Marcos State University, University of Northern Philippines, Ilocos Sur Polytechnic Colleges, North Luzon Philippine State College, Don Mariano Marcos Memorial State University, Pangasinan State University, and Commission on Higher Education also received recognition for contributing to the realization of the dreams of Pantawid Pamilya children to earn their college degrees through the Expanded Students Grants-in-Aid Program for Poverty Alleviation (ESGP-PA).
Ms. Melani Sibayan of Balungao, Pangasinan and Aggasi Parent Group of Pagudpud, Ilocos Norte were adjudged as the Regional Winners in the Search for Natatanging Pantawid Pamilya Parent Leader and Pantawid Pamilya Parent Group 2019.
Ms. Sibayan emotionally relayed her story as a Parent Leader. She said "Habang iniintindi ko ang hirap ng isang solo parent, akin ding binibigyan ng pansin ang aking mga miyembro. Sa mga panahong lugmok ako, hindi ako pinabayaan ng aking mga miyembro. Buti na lang at laging nandiyan ang DSWD at Pantawid Pamilya dahil sila ang nagsisilbing ilaw sa akin. Yumaman ako sa kaisipan at pagmamahal mula noong ako ay naging Parent Leader dahil sa Family Development Sessions (While I am weary of being a solo parent, I also give attention to the needs of my members. My members did not leave me when I was so down. Good thing that the DSWD and Pantawid Pamilya are always there serving as my guiding light. I became rich in thoughts and love because of the FDS since I became a Parent Leader)."
Ms. Marivic Cabrera, Master Teacher II of Nagbukel National High School and Ms. Wilma Yukee, Midwife II of Bangar Rural Health Unit, were announced as the Regional Winners in the Search for Pantawid Pamilya Education and Health Focal Persons 2019.
For the Most Institutionalized Conduct of City / Municipal Action Committee Meeting in 2018, the following Local Government Units (LGUs) were lauded: Bacarra, Ilocos Norte; Vigan City, Ilocos Sur; Bangar, La Union; Luna, La Union; Naguilian, La Union; and Balungao, Pangasinan.
The Local Government Units of Marcos, Ilocos Norte; Vigan City, Ilocos Sur; Bauang, La Union; and Bayambang, Pangasinan received their awards as Best LGU Gender and Development Initiative.
To acknowledge their efforts in sharing their resources geared towards uplifting the level of well-being of partner-beneficiaries, the Lord of the Harvest Ministries; North Luzon Baptist Pastors and Preachers Fellowship; International Holistic Engagement for Life and Progress (i-HELP); National Chaplains of the Philippines (NCP); Judah Rey Praise the King of Kings Ministries, Inc.; Responsible Citizens, Empowered Communities in Solidarity for Social Change (RECITE), Inc.; Pastors and Teachers Ministerial Organization of Sta. Barbara (PATMOS); and Bayambang Baptist Church were awarded as the Most Active Civil Society Organizations.
Adams National High School, Alilem National High School, and Alternative Learning System Bauang, La Union were the awardees for the Best Youth Development Session (YDS) Implementation – School Based.
Universal Peace Federation; North Luzon Baptist Pastors and Preachers Fellowship (NLBPPF); i-HELP; and Binalonan Ministers Fellowship, Inc. were the recipients of the Best Implementers of YDS – CSO Led.
Balungao, Pangasinan Municipal Mayor Maria Theresa Peralta said "Our (LGU) work is actually pegged at Social Welfare. On top of everything and what we always think about is the welfare of the people."
"Isa ako sa mga nagpapatunay na hindi totoo ang mga paratang sa mga benepisyaryo ng programa. Nakita ko kung gaano sila kaaktibo sa kanilang mga lugar at pinagkakatiwalaang mamamayan sa mga araw na kami ay sumasama sa pag validate sa mga kasali sa mga patimpalak (I am one of those who can testify that the allegations towards the program beneficiaries are wrong. I have seen how active they are in their localities and trusted members of the society during the validations of the contenders for searches)," claimed NLBPPF Regional Head Rev. Edmundo Tavermin.
"As an implementer, I really appreciate YDS as it equipped me with deeper knowledge and skills to deal with the youth. I am more fueled to deliver and achieve the YDS goals through ALS so that Pantawid Pamilya learners will be empowered, successful, and productive individuals," Ms.Ruth Garcia of ALS Bauang, La Union shared.
ESGP-PA Coffee Table Book version 2.0 dubbed as "Achieve" was launched by the writers from La Union and Pangasinan. Christian de Guzman, graduate of Bachelor of Science in Information Technology from Pangasinan State University read his story that he wrote. He shared that he is now working as a Layout Artist in a private school. The writers received their own copies of the book together with their certificates and tokens.
All partner agencies and beneficiaries signed the Manifesto of Commitment to show their sincerity and dedication to continue their support to the program implementation.
Pantawid Pamilya Regional Program Coordinator Rosalyn L. Descallar humbly shared the pains and gains of the program for 10 years. She said, "Our decade-long partnership has made an impact to many household beneficiaries. Let us continue working together to ensure that all our children beneficiaries are healthy, in school, and nurtured by a family."
DSWD FO 1 continues to strengthen ties with its partners and commend their worthy contributions for better implementation of Pantawid Pamilya. "The DSWD FO 1 is grateful for your unwavering support and response to the challenge to make sure that no one in Region 1 will be left behind in the road to development. Your openness, guidance, and support contributed to the reason why we are here today and have just celebrated a milestone," Specialized Program Division OIC-Chief Virginia P. Sesay uttered. (by: Jaesem Ryan A. Gaces, Information Officer II/Pantawid Pamilya)