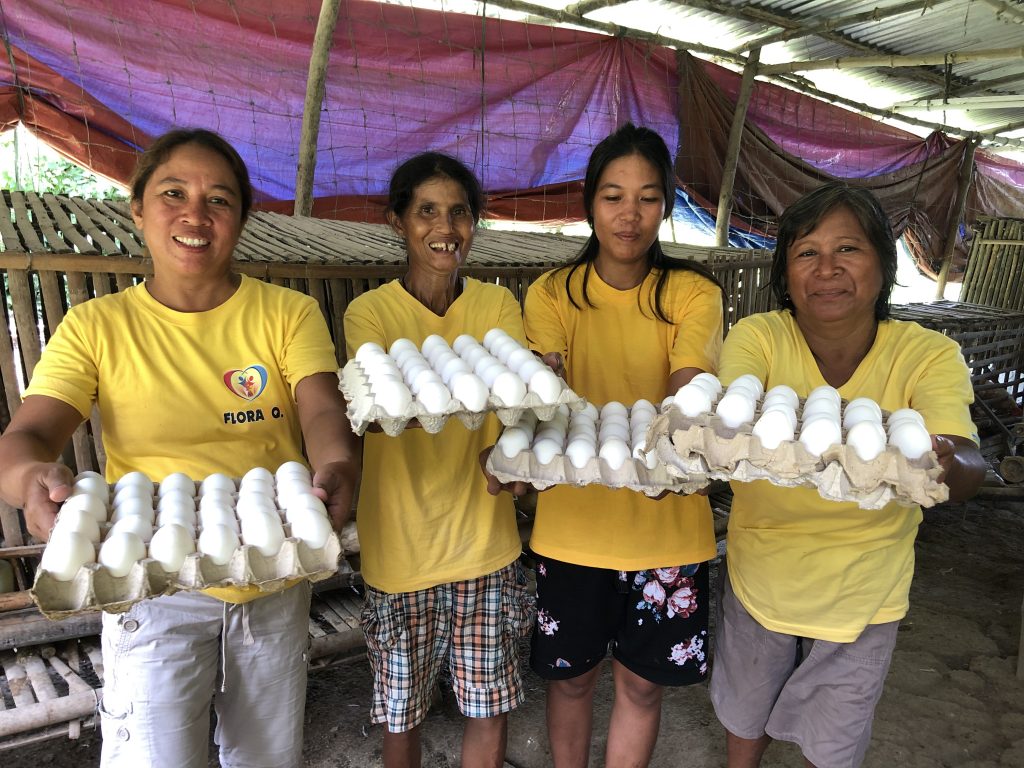 Most of the Pantawid Pamilya women at Brgy. Baybayabas, Santiago, Ilocos Sur help their husbands earn a living by working as seasonal farm workers and part-time housekeeper, while others stay at home to look after the family. Aspiring to gain extra income, 23 of these women organized themselves as Green Guava Sustainable Livelihood (SLP) Association and sought assistance from the Department of Social Welfare and Development Field Office 1 through its Sustainable Livelihood Program by proposing an egg-layering business.
"Daytoy ti napilimi ta nalaklaka laeng nga ipataray gapo ta amin ket agkasapulan ti itlog, iso ti kadawyan a pammigat (We chose this livelihood because of its high demand. Everyone buys eggs, it is usually serve for breakfast)," said Flora Quiñones, the Association President.
The association underwent a 3-day Skills Training on Chicken Egg Layering in June 2018 where they were given 220 heads of ready-to-lay chickens, one year supply of feeds, vitamins, one sprayer, and 12 waterers as starter kits for their business. Each of the members contributed materials and worked together in the construction of their poultry.
Members are scheduled to look after the poultry's needs and attend to their customers' orders. The association can harvest a daily average of four to five trays of which a tray is sold at PhP140.00 to PhP150.00 depending on its size. People in the neighborhood and those with sari-sari stores in the adjacent barangays are their regular buyers. Sixty percent of the profit is divided equally among the members every month while 40 percent is automatically deposited to the Association's savings account. "Adda PhP52,000.00 a savings min. Balbalakenmi daytoy nga igatangan iti kanayonan a manok tapno umado pay ti maapitmi nga itlog ken dumakkel ti kitami (We have PhP52,000.00 savings in the bank. We are planning to purchase additional egg-laying chickens to increase our harvest, thus growth in our income),'' said Flora.
Flora supplements her family's income by working as an on-call laundrywoman who makes a PhP900.00 weekly income. His husband is a seasonal farm tenant, two of his children are construction workers, while her youngest child is in high school. "Pasaray adda madibidendok a lima gasut inggana pito gasut ti maysa bulan ket di mayaten. Syempre pagrugrugyanan mi pay laeng met, iso nga alagaan mi daytoy inted ti SLP tapno rumang-ay met ti biagmi uray kaskasano.(Receiving PhP500.00 to PhP600.00 monthly dividend share from the poultry is a great help. We are still growing this SLP-assisted business. We shall nurture this livelihood with hopes of achieving a better quality of life)," she added.
SLP is a capability-building program of the DSWD that provides access to opportunities that increase the productivity of the livelihood assets of the poor, vulnerable, and marginalized communities in order to improve their socio-economic wellbeing. (by: Janine Joy B. Altero, Social Marketing Officer, Sustainable Livelihood Program)