Old age may have drawn wrinkles on her face, removed her eyesight, and weaken her body but her sanguinity remains through the years. She loves to be groomed beautifully by her daughters with some face powder and lipstick on her face, and some fancy jewelries to complete her daily look.
Her beauty radiates not only from the outside but can also be mirrored through her jolly personality. This is the 105-year old lola Emilia Viloria Cabotaje from Brgy. Aquib, Narvacan, Ilocos Sur who often cracks jokes and sings funny Iluko melodies. Don't start a debate of who is more good-looking, because she will insist that she is the most beautiful of all. Ask if she can eat "bagnet", she says that she is just waiting for her teeth to grow before she can taste one of her town's most delectable dishes.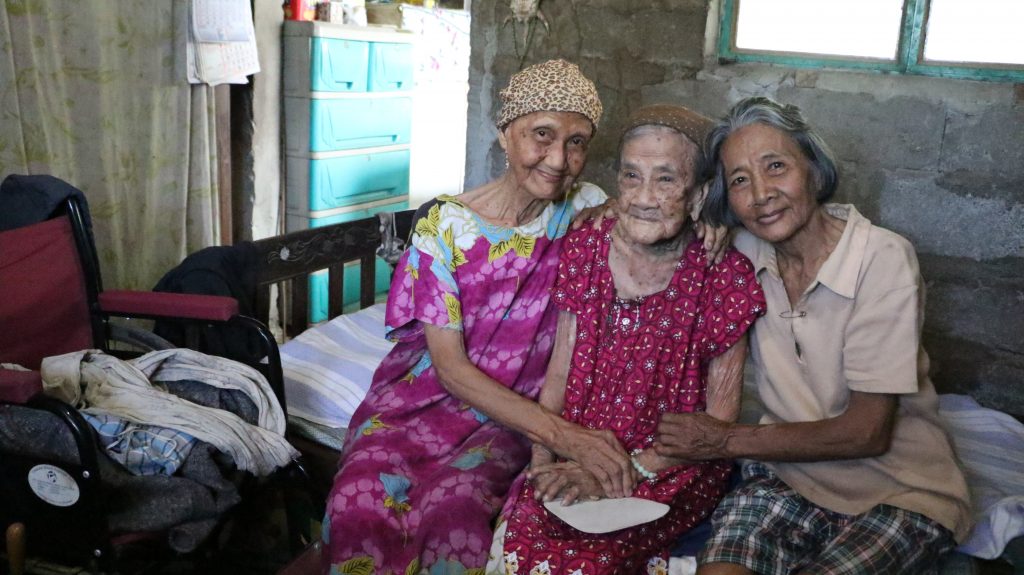 "Ni nanangmi ti liwliwami. Makapaalis ti kinaragsak na iso nga talaga nga al-alagaanmi  (Our mother is our stress-reliever. Her cheerfulness is contagious that is why we really take good care of her)," said her 74-year old spinster daughter Lola Emerencia. They live in their old family house together with 78-year old Lola Rosalina, also lola Emilia's daughter.
Reminiscing the past, life was not beautiful as it may seem. Her childhood was spent in the fields helping his father earn a living because her mother died at a very young age. Later, she was married to a poor farm tenant of whom they were blessed with six children. "Narigat ti biag ngem iso ti nakem ni Apo (life is hard but that is God's will)", said the old woman still in her smiles. She believed that her blindness was caused by prolonged and extreme exposure to the sun.
The centenarian cash gift she received was deposited in the bank for future use. Lola Emilia and Lola Rosalina are DSWD social pensioners while Lola Emerencia is a private pensioner. Their combined monthly stipends are used in buying their daily needs, and Lola Emilia's diapers, and vitamins. They believe that her soft skin is the product of drinking three glasses of milk daily. She used to smoke native tabacco and drink "shoktong", a local wine for the old back then.
Despite her daughter's unconditional love and untiring care for her, lola Emilia's prayer is for her eternal peace to be granted the soonest so her daughters can rest from all the burden she is causing them. "Agyamanak kenni Apo ta nadanon ko daytoy a paset ti biag kon, mabalin ko aginanan (I thank God for allowing me to reach this age, I can now rest)", she added. But for her daughters' love for her, they are willing to endure all the hardship as long as they are intact and together. (by: Janine Joy B. Altero, Social Marketing Officer, Sustainable Livelihood Program)