As part of the sealed partnership between the Department of Social Welfare and Development Field Office 1 (DSWD FO 1) and Philippine Rice Research Institute Batac (PhilRice Batac), 985 farmers gathered together through the Lakbay Palay 2018 held on 8-9 November 2018 at PhilRice NTA Station, Batac City, Ilocos Norte. The farmers who are from the provinces of Ilocos Norte, Ilocos Sur, and La Union are all Sustainable Livelihood Program (SLP) participants of DSWD FO 1 who are currently undergoing various skills training on rice, oyster mushroom, and vegetable production.
PhilRice's Lakbay Palay aims to introduce new farming techniques and approaches to the farmers. With this year's theme "Lakbay Kaalaman Tungo sa Masaganang Kinabukasan", the farmers, together with some DSWD and LGU staff, had a tour to PhilRice Batac's 13 learning stations. The stations include vermicompost production, inbred rice seed production, special purpose rice selection, introduction to new farm machineries, among others.
"Pati pay gayam dagidiay ammomin a basura ket mabalin pay gayam a pagkakitaan, diay vermicompost. Pati panagtalon ket high-tech payen, masapol laeng nga adda mangisuro isu nga agyamyaman kami ti DSWD ken PhilRice (Even those that we consider trash can still be a source of income… like vermicompost production. Farming requires high-technology now, we just need someone to teach us the technical know-how, and we thank DSWD and PhilRice for that)," said Modesto Danao from Agoo, La Union who actively participated during the discussions.
PhP15.99 M partnership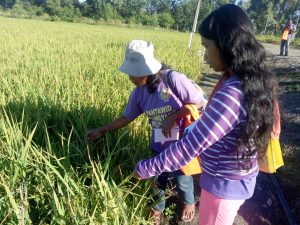 DSWD FO 1 and Philrice Batac signed a 15.99 million peso partnership early this year where PhP15 million came from the DSWD SLP GAA-Microenterprise Development 2017 fund and the remaining amount from Phil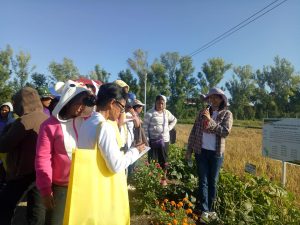 Rice who served as training specialists.
"Maganda ang SLP na programa ng DSWD (The Sustainable Livelihood Program is a good program of DSWD) in terms of attitude transformation among our participants. It is easier for us to introduce new technologies," said PhilRice Batac Director Reynaldo C. Castro relating to the five processes which the SLP participants underwent. The second process – the Social Preparation stage – follows a participatory process to empower and develop co-ownership among SLP participants.
As the SLP participants are being continuously monitored for assessment and additional technical assistance within a two-year incubation period by the SLP Field Staff, the first batch of farmers who underwent skills trainings have already applied new farming techniques learned through their increased crop production rate during the last harvest season. (by: Janine Joy B. Altero, Social Marketing Officer, Sustainable Livelihood Program)