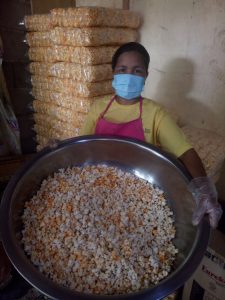 As cheap as PhP5.00 per pack, Betty Cruz' popcorn business now supplies canteens and sari-sari stores in the different towns of Ilocos Sur and Abra.
With no formal training and background on the business, Betty used to sell snacks in an elementary school near their home and worked as a seasonal farm tenant in Narvacan, Ilocos Sur earning a rough PhP150.00 to PhP200.00 per day. This is to augment the PhP200.00 daily income of her husband who used to be a roving delivery man/driver for a snack business in the same town.
An unexpected business out of curiosity, she tried to experiment cooking popcorn for her family. Considering the easy preparation of the popcorn and the cheap market value of it that suit students' budget, she tried to repack some and sold it to the school where she also sells kakanin. Getting a good income out of the small supply, she expanded her market to nearby schools and sari-sari stores in Narvacan.
However, due to her limited capital, Betty was not able to regularly supply popcorns to her growing market.
Her family with two kids being a beneficiary of the Pantawid Pamilyang Pilipino Program requires regular attendance to the program's Family Development Sessions (FDS). Through the FDS, Betty was able to learn about the Sustainable Livelihood Program of the Department and was later identified as one of the recipients of the Seed Capital Fund amounting to PhP5,000.00 in November 2016 to augment her limited capital. She was then able to continue expanding her business with the assistance given to her.
Because of the growing business, her husband decided to quit his job, loaned a motorcycle and supplied popcorns to nearby towns of Narvacan, Ilocos Sur and some towns of Abra. She now hires two neighbors who work 3-4 days a week as repackers. Each of them are being paid PhP150.00 daily with free meals.
She also cooks and sells peanuts in addition to the popcorns. Good market strategy developed along the way, her husband buys and sells other snacks such as pastillas, hopia, and fish crackers.
"Adda sarili na a kita ni lakayko a PhP300.00 inaldaw, sabali met jay kitak nga PhP500.00. Ag-business partners kami. Bahala isona nga mangpatong ti presyo jay ited ko nga presyo kanyana (My husband has his own income of PhP300.00 daily while I also earn PhP500.00. We are business partners. I let him decide how much profit he'll add up to the products he delivers)", said Betty.
With hardwork and determination as the main ingredients of Betty's popcorn, her production area of sawali walls which was attached to their house was renovated into concrete walls with window screens and door screen for sanitary compliance. The family was also able to invest on wooden cabinets as storage area for their product, and two electric sealers. "Dati ket manu-mano ti panang-seal mi iso nga inggana 3 days lang ti sarangsang dagiti popcorn, itan ket umaboten iti 5 days (We used to seal the packaging manually that crispiness of our popcorns only lasted for 3 days. Now it can last up to 5 days)", she said.
"Dagitoy bassit nga appliances mi ti in-inot a napondarmi. Mapmapan ngamin ti inaldaw a kasapulan ken pinagbasa dagiti ubbing ti mapaglaklakuanmi (We have invested on a few appliances now. Most of our combined income are allotted for our daily needs and our children's school expenses)", she added. Her parents are living with them, too.
Their family business is being monitored regularly by the SLP staff for technical assistance. "Dakkel a tulong ti maaw-awatmi manipod ti Pantawid Pamilya Program ken iti puhunan nga naited ti SLP (The assistance from the Pantawid Pamilyang Pilipino Program and SLP are big help to us)." (by: Janine Joy B. Altero, Social Marketing Officer, Sustainable Livelihood Program)