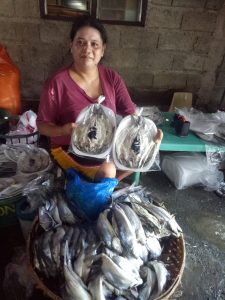 From a bangus production worker to owning her own Daing na Bangus business, Emelyn Jimenez is grateful of the assistance given to her by the Sustainable Livelihood Program (SLP) of the Department of Social Welfare and Development Field Office I (DSWD FO 1).
Emelyn from Dagupan City was one of the identified SLP participants in the city in 2016. Along with 142 more Pantawid Pamilya beneficiaries, she underwent a 3-day Skills Training on  Enhanced Business Management for Sari-sari Store and received starter kits worth PhP10,400.00 each to operate their own sari-sari stores. Prior to DSWD intervention, she used to work as a Daing na Bangus production worker earning PhP500.00 daily.
Since Emelyn resides in a densely populated barangay where sari-sari stores are in every corner, she decided to shift her business into Daing na Bangus. Her income from the sold starter kits was utilized as her start-up capital. Together with her husband, they sell marinated boneless bangus at PhP75.000 to PhP90.00 per pack at the City's public market.
After months of being a retailer, she was able to gain bulk buyers from Laoag City and Metro Manila ordering an average of 150-600 kilos of bangus at least twice a week.
She now earns a net income of PhP1,000.00 to PhP3,000.00 daily. A part of her profit was utilized in the renovation of their house from sawali to concrete. Each of  her  worker  earns PhP200-PhP340 daily from repacking,  marinating, and garlic peeling. Other workers are paid  PhP2.00 for every deboned milkfish.
All SLP-served participants shall undergo an incubation period of one year and three quarters where a monitoring Project Development Officer deployed in the area provides continuous technical assitance to the said program participants.  (by: Janine Joy B. Altero, Social Marketing Officer, Sustainable Livelihood Program)