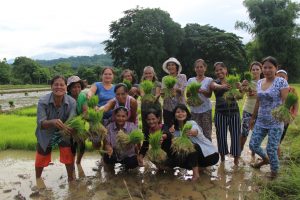 A hundred (100) Sustainable Livelihood Program (SLP) participants  in various barangays of Rosario, La Union are continuously acquiring new farming technologies and techniques to improve their production yield through a cropping season-long Skills Training on Rice and Mushroom  Production. The said training is part of the PhP15 million partnership project of the Department of Social Welfare and Development Field Office I through SLP and Philippine Rice Research Institute Batac catering to 985 SLP participants in Region I.
"Itultuloytayo ti panagtitinnulongtayo. Uray nagaget tayo no saan tayo ammo ti teknolohiya, mauditayo latta. No masurotantayo ti teknolohiya, bumaba ti production cost ken dumakkel ti kitatayo (Let us continue helping one another. Hardwork without knowledge on new technologies will leave us behind. If we learn new farming technologies, we can minimize production cost and improve the yield)," said PhilRice Dir. Reynaldo C. Castro during the ceremonial transplanting at Brgy. Gumot-Nagcolaran on 13 July 2018.
With facilitation from the PhilRice staff, program participants were taught on the crop management system for rice called the "PalayCheck System". This provides a collaborative learning framework for farmers to improve their understanding of production principles and their management skills to enable technology localization. The crop management area focuses on seed and variety selection, land preparation, and establishment of crop, nutrient, water, pest, and harvest.
DSWD-SLP and PhilRice Batac have also been conducting Skills Trainings on Oyster, Mushroom and Vegetable Production to identified SLP participants in Ilocos Sur and Ilocos Norte since May 2018. Target full implementation of the said partnership project is before the end of the current year. (by: Janine Joy B. Altero, Social Marketing Officer, Sustainable Livelihood Program)