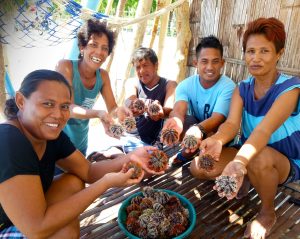 The Department of Social Welfare and Development Field Office I (DSWD FO I) has reached Brgy. Nalvo, Santa Maria, Ilocos Sur, one of the biggest sea urchin suppliers in Ilocos Region, through the Sustainable Livelihood Program (SLP).
With traditional technology and experience on sea urchin aquaculture and the availability of natural resources in the community, 15 Pantawid Pamilya beneficiaries of the Nalvoracay Pantawid Business Club sought intervention from
SLP to improve their livelihood and increase their produce. They underwent a 5-day Skills Training on Sea Urchin Production in November 2017 and received cages and sea urchin fingerlings as starter kits.
As soon as they started operating, the group assigned rotating schedules for task management among members to distribute responsibilities such as feeding and harvesting since they also have other livelihood activities to attend to. The group can harvest an average of 7 kilos of urchins per day which is sold at PhP120.00 per kilo. They sell their harvest at the local market, other times the buyers personally go to their project site to buy.
Jane Tradio, one of the members, said that her share from the group's income helps in her family's needs. She is a fish vendor who also offers home service physical therapy. "Agsisinnublatkami met nga agpakan kada agala iso nga makasideline nak pay iti sabali. Barbareng no umado pay ti cage mi ta dumakkel pay ti kitaenmi. (Each day, a o1member is in-charge of the association's business so others can do sidelines. We aim for more cages for higher income)," she said. Showing expertise in diving and fishing with that of the male members, Jane dives in the water with her snorkeling gear to harvest the sea urchins with her bare hands.
Together with the other members of the Association, the Nalvoracay Pantawid Business Club will receive  PhP400,000.00 Seed Capital Fund from SLP which will be utilized to expand their chosen enterprises on goat raising, fish vending, sari-sari store manangement, broiler production, and sea urchin culture. (by: Janine Joy B. Altero, Social Marketing Officer, Sustainable Livelihood Program)