From a typical Professional Forecourt Attendant or more commonly known as a "gasoline boy", Jason Tadeja, 24, from Brgy. Lussoc, Santo Domingo, Ilocos Sur was able to level up as a gasoline station supervisor after 15 months of being employed in his first work designation.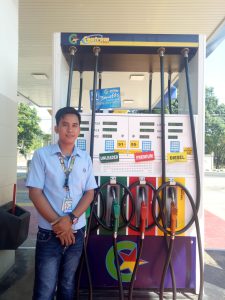 Jason's family is a beneficiary of the Pantawid Pamilyang Pilipino Program of the Department of Social Welfare and Development Field Office I (DSWD FO I). Trying to make ends meet, his parents were able to send him to school and graduate with a degree of Bachelor of Science in Criminology. However, due to the high expenses needed to get a license, he decided to pursue another career that would help his family earn a living right after graduation. He was included as one of the recipients of the the Pre-employment Assistance Fund (PEAF) of the Sustainable Livelihood Program of DSWD in July 2016 receiving Php3,550.00 which was utilized to secure employment requirements as a gasoline boy. He was referred by a Field Project Development Officer of the Department to one of the gasoline stations in the area and was immediately hired as a gasoline boy in Narvacan, Ilocos Sur until October 2017.
Because of his good working attitude, he was promoted as a Supervisor in October 2017 and was assigned at San Ildefonso, Ilocos Sur. "Uray 4Ps ket kaya met umasenso basta kayat mo ken agubra ka a nalaing (Even 4Ps beneficiaires can succeed in life as long as we aim and work hard for it)," he said during an interview. "Dakkel met ti tulong ti PEAF ta nakatrabahoak ken gimminhawa met ti panagbiag. Tatta, ngimmato met ti self-confidence ko (PEAF is a great help in securing my present job. Life's easier now, I also gained self-confidence)," he added. 
Jason was among the 77 PEAF beneficiaries in Ilocos Sur in 2016. All of them are gainfully employed in different work sectors in the province. (by: Janine Joy B. Altero, Social Marketing Officer, Sustainable Livelihood Program)