The Department of Social Welfare and Development (DSWD) acknowledges and commends the efforts of individuals, groups, and partner associations who have continuously supported the programs and services of the agency through the "Pagkilala sa Natatanging Kontribusyon sa Bayan (PaNata Ko sa Bayan)" Awards.
One of the PaNata Ko sa Bayan Awards is the Gawad Paglilingkod sa Sambayanan (GaPaS) Award for Model Local Government Unit Implementing Outstanding Sustainable Livelihood Program (SLP) Microenterprise Development Model which was brought home by the Local Government Unit of Anda, Pangasinan. Mayor Aldrin C. Cerdan, Municipal Social Welfare and Development Officer Jowey C. Celzo of Anda, and Regional Director Marcelo Nicomedes J. Castillo received the commendation during the DSWD's 67th Anniversary Celebration on 08 March 2018 at DSWD Central Office.
DSWD Field Offic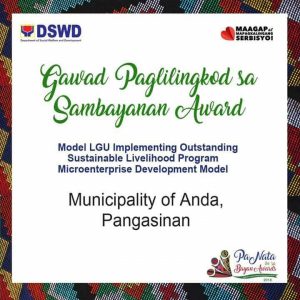 e I (FO I) and the Local Government of Anda, Pangasinan have been working hand in hand in the effective implementation of microenterprise projects. One of these is the organization of 'Kabaraybayan' Livelihood Assistance Program (KLAP), a National Bangon Kabuhayan Nominee in 2015.
The Local Government of Anda is always alloting Php180,000.00 for livelihood programs under their Annual Investment Program (AIP). This is usually utilized for livelihood assistances as recommended by the Municipal Social Welfare and Development Office (MSWDO).
The full support of LGU Anda and DSWD FO I,  the cohesive partnership within the organized groups, and sustainability of KLAP led to the organization of the KLAP Cooperative which is now catering to at least 500 members.  From their organization, various key players  poured in partnership and technical/resource augmentation from equipment to grants of loan and grants for community projects including various skills trainings.
For Macandocandong Kalipi KLAP SKA who has a mini mart, a Php10,000.00 from the LGU  was utilized in buying the lot where the mini grocery was erected and Php15,000.00 was utilized as an additional capital. The Provincial Government also gave Php200,000.00 worth of building, Php20,000.00 as an additional capital, and construction materials for the Mini Mart extension. The Empowerment and Reaffirmation of Paternal Abilities (ERPAT) group in Dulawan, which is also a KLAP, received cash assistance worth Php5,000.00 for 2016 and 2017 for their tahong livelihood project.
Other government agencies like the Department of Trade and Industry also partners with LGU Anda for livelihood project interventions. In 2017, DTI Anda conducted a skills training on food processing to interested micro-entrepreneurs in the municipality.
In 2015, LGU Anda put up a Tourism Center at the heart of the town where associations can display and sell their products in one area.
As part of the continuous effort of the Local Government of Anda to lessen poverty incidence in the Municipality, it partnered in 2010 with Panangaro Foundation, a non-government organization to come up with a micro-financing facility called Self-Help Group (SHeG) to help poor women acquire financial loans with a lower interest compared to those offered by private lending institutions. Seeing the good economic impact of the concept, it opened its membership to poor men allowing ERPAT group in the municipality to do savings and acquire loans as well. SHeG was then later named as SHG.  In 2012, the LGU has integrated SHeG with Pantawid Pamilyang Pilipino Program beneficiaries. Associations supported by the SLP of the Department, like the KLAP and Macandocandong Kalipi SKA to name a few, also seek financial loans in SHG for additional capital and emergency needs. SHG members are also being prioritized for Anda Cash For Work (CFW).
From 2015 to 2017, a total of 403 program participants, both Pantawid and non-Pantawid Pamilya beneficiaries, underwent skills trainings on various business ventures through SLP to strengthen the business capabilities of the program participants. A continuous monitoring of the associations' progress is done by the DSWD's Field Monitoring Project Development Officer and the MSWDO in Anda. (by: Janine Joy B. Altero, Social Marketing Officer, Sustainable Livelihood Program)