Eggs are fast-moving commodities sold in stores everyday. Because of its high demand, the Dan-ar Poultry Sustainable Livelihood Program Association (SLPA) in Brgy. Dan-ar, Santiago, Ilocos Sur agreed to put up a small egg laying poultry facility in their barangay with the help of the Sustainable Livelihood Program of the Department of Social Welfare and Development Field Office I (DSWD FO I).
The Association composed of 23 Pantawid Pamilya beneficiaries underwent a Skills Training on Chicken Egg Layering on 28-29 December 2016 and received starter kits which include 300 egg-laying chickens, 150 cavans of feeds, and galvanized roof sheets for the poultry's housing. Each of the members, on the other hand, contributed bamboo splits for the construction of the chicken cages.
Everyday, the poultry can produce 4-10 trays which are sold at Php140.00 to Php170.00 per tray depending on the size of the eggs. Miki (a local noodle in Ilocos) makers, school canteen manager, and store owners in the barangay serve as their daily buyers. Forty (40) percent of the Association's profit ranging from Php5,000.00 to Php15,000.00 monthly is divided equally among the members while 60% of it goes to their savings. Some of their savings were used in the insta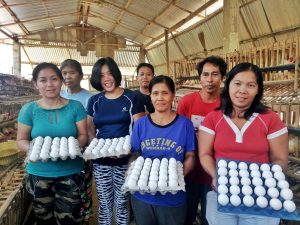 llation of electricity in the poultry, acquisition of additional 100 egg laying chickens, and construction of a small kubo that serves as the station of the member in-charge in the poultry. The Association pays Php1,000.00 for the land rental annually.
"Makatulong daytoy ta ti bingay ti tumunggal maysa ket nayon a balon dagiti annakmi nga agbasbasa (Our business helps our family because the share of each member usually goes to our children's school allowance)," said Jocelyn Manzano, the SLPA President. Male members are carpenters and farmers while female members are housewives.
Each of the members is scheduled to be at the poultry 24 hours a day. "Mayat ti tinnunosmi nga agkakadwa iso a makitkitami a bareng dumakkel pay daytoy (We have good working relationship among ourselves that is why we foresee the expansion of our poultry)," said Jocelyn. The Association plans to purchase an electric pump that would ease the water system in their poultry. (by: Janine Joy B. Altero, Social Marketing Officer, Sustainable Livelihood Program)