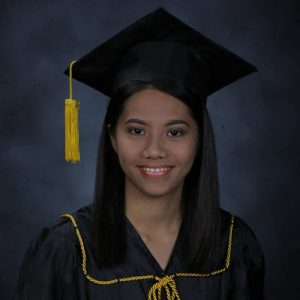 "I never thought I would come this far. At seven, my mother passed away two months after giving birth to our youngest. As a single parent, my father, Conrado works hard in the fields to provide for our needs. This chapter of my life seemed to have started our moment of despair. However, being the eldest in a brood of four, I became more determined to overcome every obstacle I encounter. With the struggles I faced, I stood stronger against the next battles. I am now a Licensed Professional Agriculturist! I was able to prove that poverty is not a hindrance to achieving one's dreams."
 A beautiful disaster
From their family's downfall, Hazel chose to stand up and wave the banner of the Achuelas. And she did. "Whenever I look back to the pages of my book called life, I cannot help but weep. I could not imagine how we were able to continue this journey knowing that my family is not complete. I never lost hope, I continued my schooling together with my three sisters," she said.
Life goes on.  Though the death of their mother pains their hearts, Hazel took the responsibility of taking good care of her three siblings and manages their humble home. "I did not show signs of weakness and weariness. Rather, I showed my sisters the importance of having the strength and courage to face life struggles," she shared.
Journey to victory
 "When I was in elementary, I was very happy whenever my father gives me PhP2.00 for my daily allowance. I packed my lunch so I would not go home anymore to eat. Barangay Salbang is a flood prone area. I rode my bicycle everyday even during rainy days instead of riding a tricycle," Hazel narrated.
They also went to the market early in the morning to sell vegetables for additional allowance and to catch up with late payment of school contributions. "I cannot avoid the times when I even pitied myself because my classmates lived comfortable lives with complete families who are ready to support all their needs," Hazel admitted.
Opportunity in every difficulty
Though worried of entering college, she still pursued her education. "God is so good for He sent Pantawid Pamilyang Pilipino Program and Expanded Students' Grants-in-Aid Program for Poverty Alleviation (ESGP-PA) to help me in my studies," Hazel testified. She graduated With Distinction in High School at the Mariano Marcos State University (MMSU) Laboratory High School – Science Curriculum.
To her surprise, she passed the University of the Philippines College Admission Test but was financially incapable to study at UP Los Bańos, so she enrolled Bachelor of Science in Agriculture Major in Animal Science at the MMSU – College of Agriculture, Food, and Sustainable Development (CAFSD) in Batac City, Ilocos Norte.
When Hazel was still studying, she told herself, "If not because of ESGP-PA, I might still be looking for coins inside my bag hoping that there might have been enough to pay for a copy of handout which comes at unexpected circumstance. Indeed, God works in miraculous ways."
She also represented MMSU to the Asian Association of Agricultural Colleges and Universities Study Tour in Tokyo, Japan.
Couldn't ask for more
Hazel marched at the MMSU Sunken Garden more colorful than the sunflowers all around. She owned the crowd as she was announced as Magna Cum Laude. This called for a celebration; however, another challenge awaits – Board Examinations.
Doubts, fears, stress, and sleepless nights hurdled her during her review. To support her expenses for her review, she was not ashamed of going back to the market to sell vegetables every day. During her review, she was appointed as a part-time faculty at the CAFSD. This has been her dream – to be part of the academe. Therefore, she taught and reviewed at the same time.
Came the most awaited day. The first word she uttered is "Thank you, Lord!" upon accepting a phone call in the middle of her sleep at night saying, "Hazel, Congratulations! You are Top 9!"
She considers this milestone of her life as her best birthday gift ever. She offers her success to those who lifted her when nobody else did. "No words can express how grateful I am," she shared.
Before, she was just nobody without most nothing but now, she can confidently say she is somebody. Somebody who proves that everything happens for a reason and that reason is to live to give life to those who are weak in spirit. A crippled life turned to a joyous one. (by: Jaesem Ryan A. Gaces, Information Officer II/Pantawid Pamilya with excerpts from Hazel's facebook post)