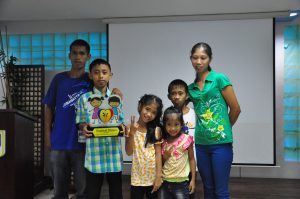 The Department of Social Welfare and Development Field Office 1 through the Pantawid Pamilyang Pilipino Program named this year's Exemplary Pantawid Pamilya Child.
Frederick "Erick" A. Cachero, Grade 7 student from Libtong Elementary School in Burgos, La Union bagged the title over the other three provincial winners from Mangatarem, Pangasinan – Jonathan Cayabyab, Grade 8 student from Cabayaoasan National High School (First Runner Up), Tagudin, Ilocos Sur – Aura Marie Carbonel, Grade 9 from Tagudin National High School (Second Runner Up), and Laoag City, Ilocos Norte – Gerald Teodoro, Grade 8 from Gabu National High School.
Erick is passionate in writing poems in which he freely expresses his thoughts and insights on his everyday experiences. His family, friends, teachers, environmental issues, current events, Pantawid Pamilyang Pilipino Program, and God are among his inspirations to write his masterpieces. He scribbles his pen to record memorable and significant events in his life.
Since Elementary, he is always on top of his class. He also consistently receives numerous awards and recognitions. He always makes himself available for tutorials with his classmates and his three siblings. That makes him feel that he is a real life teacher in their school, as this is his dream profession.
His parents Roderick, 36, merchandiser and Myrna, 32, housewife feel so blessed of having a responsible and loving son. Erick wakes up as early as 4:00 AM to help his mother with the household chores before going to school. He and his sibling walk to school for 45 minutes with P15.00 in their pocket. He still manages to save from his allowance.
Erick will represent the Region in the National Level competing among other Regional Winners nationwide during the National Children's Congress in Metro Manila.
The Search for Exemplary Pantawid Pamilya Children aims to recognize exemplary Pantawid Pamilya children who serve as excellent examples for other children. The activity is also a strategy to encourage children to nurture habits and values that would mold them to be good citizens by complying to the conditions of the Program and by being responsible at home, school, and their communities. This search will be simultaneously conducted nationwide. (by: Jaesem Ryan A. Gaces, Information Officer II/Pantawid Pamilya)