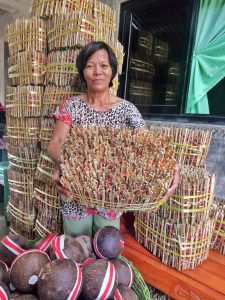 Sundot-kulangot, translated as "nose booger" in English because one's finger can be used to take out and enjoy the candy out of the shell if a stick is not available, is a pinch of glutinous rice cooked with coconut milk and brown sugar stored in a small coconut-looking shells locally called as bitaoy. It is one of the famous pasalubongs from Baguio City but little did everyone know that these sweet treats are made in Lingayen town in Pangasinan, and only imported and became well-known in the former.
One of the Sundot-kulangot makers in Lingayen is Celedonia Soriano, a Pantawid Pamilya beneficiary. Due to lack of capital, she, together with her husband, work for a neighbor in exchange of a stipend they use to buy their family's increasing needs. "Dahil sa maliit na kita, di kami makapagpondar ng sariling bahay. Nakikitira kami sa mga kamag-anak (Because of small income, we can't afford to have our own house. We live with whoever relatives offer their home with us)," said Celedonia.
Seeing a high income potential in this business, the Department of Social Wellfare and Development Field Office 1- Sustainable Livelihood Program through its Seed Capital Fund Modality, 19 program participants, including Celedonia, underwent a 5-day capability building and technical assistance on June 2015 and was able to avail a seed capital assitance of P10,000.00 each, payable for two years.
Originally, the Seed Capital assistance was intended to augment the low income of their bagoong na alamang (shrimp paste) business since most of the program participants were fisher folks. However, due to the limited supply of shrimp during the implementation of the project, they decided to expand their business operation to calamay and sundot-kulangot making.
After the Department's intervention, Celedonia family's monthly income of Php4,000.00 to Php6,000.00 went up to atleast P8,000.00. From this, the family was able to save some of their income and later utilize it to acquire a house. "Nagpapasalamat kami dahil magtatapos na ng college ang anak naming babae ngayong taon (We are thankful because our daughter is about to finigh her degree in BS Biology this year)," she said. Celedonia has 3 children, the other two are now in high school. (by: Janine Joy B. Altero, Social Marketing Officer, Sustainable Livelihood Program)