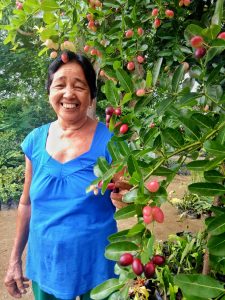 "Awan lugina, no adda man malungsot a mula ket masukatan met laeng (There is no bankruptcy, withered plants are easily and cheaply replaced)," answered Pricila Resuello, 49, an ornamental propagator, when asked why she has chosen ornamental propagation as her family's main source of living.
Ornamental propagation has been one of the most common livelihoods among the barangay folks of Manzante, Magsingal in Ilocos Sur because soil condition in the area possesses good quality essential for plant growth.
To produce better yields, the Sustainable Livelihood Program of the Department of Social Welfare and Development Field Office 1 conducted a Skills Training on Ornamental Propagation in the barangay on 30-31 July 2015 which was participated in by 41 all-women program participants, most of whom are Pantawid Pamilya beneficiaries. This is in partnership with the Department of Agriculture and Hidden Garden that served as training providers. Program participants received seedlings  and propagation kits and supplies during their graduation.
Because of DSWD's intervention to their livelihood, the program participants were able to acquire more knowledge on ornamental propagation and therefore, gained more profit. "Nasursuromi ti ag-graft. Gapo kadagiti naited a supply kas kadagiti ganagan, sprayer, mulmula ken dadduma pay, immado iti ganansyami (We learned how to graft. Because of the supplies and seedlings given to us, we were able to raise more profit)," said Maria Foronda.
After a year, the program participants later organized themselves into an association called The Magsingal Ornamental Supreme where members can better share ideas on ornamental propagation and market strategies to other members. Some of the members buy plants from other members and sell them in the town market or to nearby municipalities. Now, the Association even has buyers as far as from Laguna. During peak season, particularly on summer and Christmas season, income for each member can go as high as Php5,000.00 per week.
Aside from the profit they get out of ornamental propagation, seeing their gardens in full bloom has created good emotional impact among the program participants. "Liwliwami iti agmula. Nagmayat a buybuyaen dagiti agsabsabong a mulami aglalao iti bigbigat (Planting is our form of leisure. It feels relaxing viewing our garden in full bloom especially in the morning)," said Pricila. (by: Janine Joy B. Altero, Social Marketing Officer, Sustainable Livelihood Program)