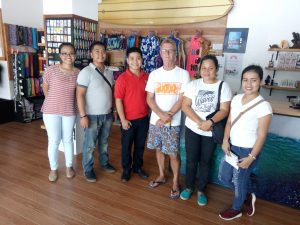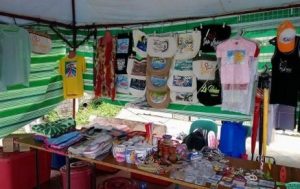 Because of its booming tourism industry, t-shirt printing and souvenir making in San Juan town in La Union has seen high potential. Thus, the Sustainable Livelihood Program of the Department of Social Welfare and Development Field Office 1 conducted a Skills Training on T-shirt Printing from 30 January to 15 February 2017 catering 18 Pantawid Pamilya program beneficiaries in town. As a way to start their business, DSWD FO1 awarded the beneficiaries with starter kits inclusive of heat press, printers, t-shirts, caps, fans, mugs among others plus allowances. The Local Government Unit of San Juan, on the other hand, provided a cargo truck that served as the beneficiaries' workplace/showroom apart from the Php75,000.00 cash loan that served as an additional capital.
The program participants who later organized themselves into The Glassy Waves San Juan Sustainable Livelihood Program Association (SLPA) began their 24/7 business in March and have gained good market. Their highest daily sale went up as high as Php16,000.00 to Php20,000.00 last 15 April 2017 during the celebration of Black Saturday where tourist visit in San Juan was at its peak.
Convergence at its best, The Glassy Waves SLPA partnered with Bamboo Growers Association to provide them bamboo craft souvenirs, and Dait ni Ayat (Weave of Love) Association to provide them with bags to be printed. The two associations were also products of DSWD-SLP skills training modality.
Not long after, all hopes and support seemed to turn into ashes when the cargo truck was totally burned up due to faulty electrical wiring on a rainy night of 20 May 2017. Only Php40,000.00 cash was saved leaving Php239,000 worth of printing materials and products totally damaged.
Early morning after the tragedy, San Juan Mayor Arturo Valdriz and all the department heads in town were able to raise P130,000.00 from their department's budget to help the three associations gain their lost hope and restart their normal business operation two days after. From the said amount, Php75,000.00 went to purchasing new set of printing machines. Also, LGU San Juan provided another workplace for the Glassy Wave SLPA while DSWD provided additional Seed Capital Fund amounting to Php160,00.00 on 10 July 2017.
"Hindi na kami yung 4Ps na hindi nagbabago ang buhay. Nakaka-proud kasi may sarili na kaming opisina. Feeling namin e businessmen na talaga kami (We are no longer the so-called Pantawid Pamilya beneficiaries who have stagnant life conditions. We are proud of having our own office. We feel like real businessmen)", said Gladys Cabading, SLPA President, as she reminisced how t-shirt printing has changed her life and the lives of her co-beneficiaries.
At present, The Glassy Waves of San Juan SLPA as a duly accredited Civil Society Organization (CSO) beneficiary of DSWD, is the leading souvenir and t-shirt print provider in town, who also caters the souvenir and printing needs of neighboring towns particularly those with souvenir shops in La Union.
Beneficiary CSOs are those that are composed of individuals bound by common interest and or are confronted by a calamity, social condition, problem, issue or crisis and who organized themselves mainly to benefit from government projects or programs that they themselves will undertake. (by: Janine Joy B. Altero, Social Marketing Officer, Sustainable Livelihood Program)