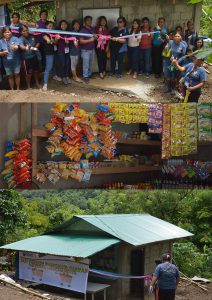 Forty-four (44) Pantawid Pamilya beneficiaries from Brgy. Fermin in Caba, La Union, who organized themselves into San Fermin Pangkabuhayan SLPA, recently opened a community store in their barangay through Sustainable Livelihood Program (SLP) fund of the Department of Social Welfare and Development Field Office I. San Fermin is a far-flung barangay in Caba town, thus the community store is a great help to barangay folks needing immediate grocery supplies.
The community store worth Php84,000.00 is funded through Cash for Building Livelihood Assets (CBLA. The CBLA modality is implemented through labor-intensive projects that build, re-build and/or protect natural and physical assets necessary for more profitable, self-sustaining and resilient micro-enterprises.
The Association started with a Php332,970.00 capital used in purchasing grocery items, rice, and fertilizers ready for sale, and a refrigerator. According to the Association's agreement, two of their members will serve as store vendors earning Php1,500.00 monthly salary each. To keep their capital revolving, a no credit policy was also agreed upon. In the meantime, store's net profit will be deposited in the Association's bank account.
"Saankami nga agprobleman to ti balonen dagiti annakmi nga agbasan (Our children's school allowance will no longer be a problem)," said SLPA President Jocelyn Valdez, 43, as she optimistically sees their community store gaining profit. (by: Janine Joy B. Altero, Social Marketing Officer, Sustainable Livelihood Program)