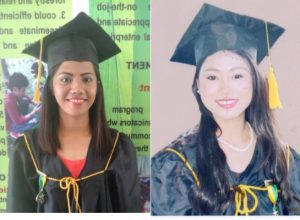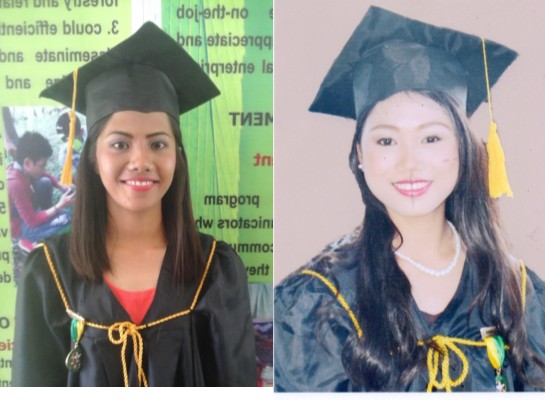 The Department of Social Welfare and Development Field Office 1 (DSWD FO 1) produced honor graduates this year through the Expanded Students' Grants-in-Aid Program for Poverty Alleviation (ESGP-PA).
Out of the 386 graduates, two are Magna Cum Laudes, 24 are Cum Laudes, and 11 are With Distinction.
The Magna Cum Laudes are Bachelor of Science in Agriculture graduate Hazel H. Achuela, and Bachelor of Science in Accountancy graduate Sherrie Anne G. Calapao (Photos: left to right).
The Cum Laudes include: Bachelor of Science in Technical Teacher Education graduate Reynaldo F. Calanasan, Jr.; Bachelor in Elementary Education graduates Aiza A. Cablay, Jeffrey D. Tomboc, Robin H. Rimas, Kimberly M. Agron, Germaine R. Batuyong, Jessah Angelica P. Ganal, Ronalyn M. Langamin, Carmena May C. Libao, and Jasen Kyle S. Ortal; Bachelor of Science in Computer Science graduates Mark Jevy G. Jacaban, and Jhonie D. Munar; Bachelor of Secondary Education graduates Jhun T. Petate, John Darwin E. Barcena, and Lyka A. Julaila; Bachelor of Science in Industrial Education graduates Jazel C. Aquino, Camille V. Bambao, Gerald T. Carbonell, and Fercris P. Gaon; Bachelor of Science in Biology graduate Rica Mae B. Ancheta; Bachelor of Science in Environmental Science graduate Chris John V. Tapuro; and Bachelor of Science in Accountancy graduates Kenneth A. Gudoy, Imee Erica C. Lacambra, and Khyle Deanne S. Lazaro.
The ESGP-PA grantees who graduated With Distinction are: Bachelor of Science in Elementary Education graduates Artemio A. Cutillon, Jr., Reylyn Marie A. Baldo, Glenda N. Buis, May Ann D. Castillo, Catherine Joy M. de Fiesta, Charlene S. Pagaduan, and Rhea N. Cawis; and Bachelor in Secondary Education graduates Giovanni C. Duran (December 2016), Carmina de Vera, Jhude Padilla, and Kristine Ritual.
The ESGP-PA aims to address poverty by increasing the number of graduates in higher education among poor households and let these graduates be employed in high-value added occupations to lift their families out of poverty at the same time contribute to national development. (by: Jaesem Ryan A. Gaces, Information Officer II/Pantawid Pamilya with reports from Arlem Kenneth R. Areola, ESGP-PA Focal)