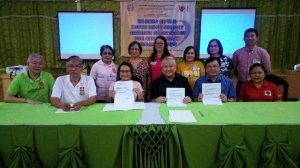 "This partnership is for the youth, as the Department of Education (DepEd) seeks to nurture and develop children. As teachers, this partnership is a commitment and compassion for the children." This was the statement of Dr. Maria Celia J. Fernandez during the signing of the Tripartite Memorandum of Agreement (MOA) among the Department of Social Welfare and Development Field Office 1 (DSWD FO1), the Olupan na Laiko ed Arkidiosos na Lingayen-Dagupan (ONLA-ALD), and DepEd Schools Division Office (SDO) I Pangasinan. The parties were represented by the DepEd Schools Division Superintendent Dr. Maria Celia J. Fernandez, the Archbishop of the Archdiocese of Lingayen-Dagupan Most Reverend Socrates B. Villegas, and the Department of Social Welfare and Development Field Office 1 (DSWD FO1) Regional Director Marcelo Nicomedes J. Castillo.
The said agreement was initiated by DSWD FO1 to implement the Youth Development Session (YDS) of the National Advisory Committee (NAC) Resolution No. 34 series of 2016 – The YDS of the Pantawid Pamilyang Pilipino Program. As parallel intervention to the Family Development Sessions, the YDS targets high school student beneficiaries of the Program to support their holistic adolescent development as well as to prevent the risks and vulnerabilities of the youth to peer pressure, early pregnancy, substance abuse, social media, school absenteeism, and other issues that make them prone to juvenile delinquency.
The areas to be covered by the said agreement include the Local Government Units under DepEd SDO I Pangasinan and those of the ONLA-ALD.
The tripartite MOA signing simultaneously included the re-echoing on the YDS Orientation for Civil Society Organizations participated by Guidance Counselors and Designates from the different schools of DepEd SDO I Pangasinan along with members of the ONLA-ALD.
Accordingly, Archbishop Villegas said in his message, "This partnership among the ONLA-ALD, the DepEd, and the DSWD guards the real treasures of the church, particularly the youth. We need to unite as one in every endeavor that protects the welfare of the poor and the neglected as a church serving its treasures."
RD Castillo relayed, "By interacting and living with the youth, we will understand them and thus guide them." He also emphasized that such partnership contributes to the expansion of government programs and services like Pantawid Pamilya. (by: Jaesem Ryan A. Gaces, Information Officer II/ Pantawid Pamilya)