Tribal Leaders and Indigenous Peoples Mandatory Representatives (IPMRs) in the Region were convened by the Department of Social Welfare and Development Field Office 1 through Pantawid Pamilyang Pilipino Program to draft Community Family Development Session (CFDS) Module for Indigenous Peoples.
These Tribal Leaders and IPMRs  from the tribes of Kankana-ey, Bago, Ibaloi, Itneg, Tinguian, Yapayao, and Iowak were selected by the community and will become CFDS facilitators in their own communities.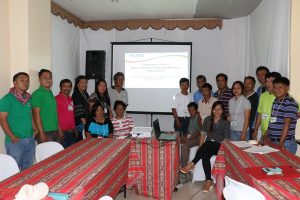 Contents of the CFDS Module with inputs from the National Commission on Indigenous Peoples (NCIP) Community Affairs Officers Delia Lagmoy and Diana Monis will benchmark and focus on the IP socio-economic activities, socio-cultural traditions, and beliefs based on their specific needs, systems and practices to promote self-determined IPs.
The CFDS Module aims to develop and empower IP community families to meet their familial responsibilities while taking into account their beliefs, customs, and traditions through shared learning that will strengthen their value system and revitalize their culture as members of the ethnic minorities. (by: Jaesem Ryan A. Gaces, Information Officer II/ Pantawid Pamilya)