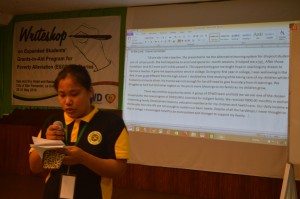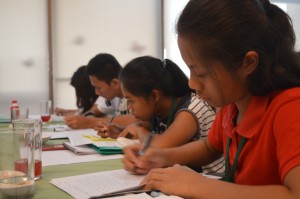 Twenty-four selected grantees of the Expanded Students' Grants-in-Aid Program for Poverty Alleviation (ESGP-PA) from all provinces of the region personally wrote their own stories of struggles and challenges in their quest for a better life through finishing their college.
The ESGP-PA aims to address poverty by increasing the number of higher education graduates among poor households and let these graduates be employed in high-value added occupations to lift their families out of poverty at the same time contribute to national development.
The program is implemented by the Commission on Higher Education (CHED) in coordination with the Department of Social Welfare and Development (DSWD), Department of Budget and Management (DBM), Philippine Association of State Universities and Colleges (PASUC), and the Department of Labor and Employment (DOLE).
It caters to deserving college students under Pantawid Pamilyang Pilipino Program with a maximum grant of P60,000.00 per academic year.
With the supervision of the Social Marketing Unit of the DSWD Field Office 1, these ESGP-PA grantees were guided with principles of writing, duly discussed by Kalahi-CIDSS Regional Capability Building Specialist Jomara S. Chan.
Their outputs were enhanced with the expertise of DSWD Field Office 1 Information Officers and Information Officer I of the Philippine Information Agency Region 1 Joanne P. Dilim.
According to Ms. Dilim, the government indeed works to uplift the poor's quality of life. She feels proud of the grantees accepting their present life situation with optimism to achieve their ambitions with the ESGP-PA.
There are 2,503 ESGP-PA grantees (Ilocos Norte-754, Ilocos Sur-668, La Union-689, Pangasinan-392) in the entire region enrolled in various State Universities and Colleges.
The participants claimed that they have learned a lot from the writeshop which they believe can be used in the future. They also added that it was a great privilege for them to write and share their own story and be an inspiration to others, which they consider as a treasure to keep.
All the stories will be compiled in a Coffee Table Book which will be launched in September during the Pantawid Pamilya Family Day Celebration. (by: Jaesem Ryan A. Gaces, Information Officer II/ Pantawid Pamilya)