With the booming new tourist destinations in Ilocos Norte, Pantawid Pamilya beneficiaries in the Municipality of Dingras were triggered to engage into cottage business in Madongan Dam in Brgy. San Marcelino.
25 Pantawid Pamilya beneficiaries decided to put up and manage their own cottage for rent through the assistance of the Sustainable Livelihood Program (SLP) of the Department of Social Welfare and Development Field Office 1 (DSWD-FO1).
Marilyn Malvar, a Parent Leader and the San Marcelino SLP Association President, reported that since they started their cottage business in March 2016, they have bank savings amounting to PhP5,710.00. They collect a rental fee of PhP400.00 a day.
Along with their cottage business, the association has also been running a broiler production since December 2015. They started raising 1,250 broilers. Each member raises 50 broilers. DSWD-FO1's SLP in partnership with BMeg and St. Ruiz Agro Merchandise provided the members training and hands-on experience on proper management of broiler production in October 2015. Since December 2015, they now have bank savings amounting to PhP44,000.00.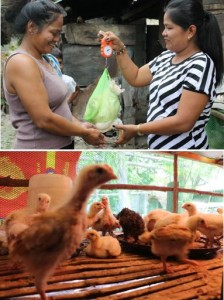 These broilers are disposed after 35 days, leaving the organization with a monthly income of PhP2,500.00 from their sales of PhP6,000.00 to PhP8,000.00. They will again buy 50 broilers for production. The organization also plans to put up a layering business in the next few days.
As part of the agreement between DSWD-FO1 and BMeg, the latter procures half of the production and the remaining is being regularly supplied at the market and to other customers.
Marilyn also shared that every member and non-member can avail loan from the proceeds of their businesses with 3% and 4% interest, respectively. This is only offered to their co-beneficiaries.
Each member is contributing Php120.00 a week (Php100.00-additional savings and Php20.00-operational fund). For medical assistance, members can enjoy the organizational fund which amounts to PhP9,207.00 earned from December 2015 to April 2016 but for the meantime, it is being offered as loan with 4% interest. They deposit their savings monthly and as of April 2016, the organization has a total bank savings of Php134,000.00
"Saan ko nga inpagarup nga uray saan ko a naileppas ti panagadalko ti kolehiyo ket maysa ak kadagiti mangimatmaton itan ti bukodmi (organisasion) a negosio ken mangidadaulo ti grupomi (I did not expect that though I failed to finish my studies, I am one of the managers of our (organization) own business and even a group leader)," says Marilyn. (by: Jaesem Ryan A. Gaces, Information Officer II/ Pantawid Pamilya)