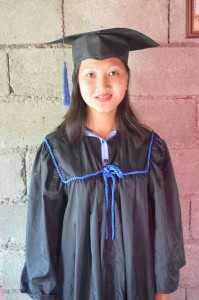 "This pride is for my family who inspires me to fight all the way. They are always with me in every battle," Melody Baided said with evident confidence.
With her guiding principle, Philippians 3:14 "I can do all things through Christ who strengthens me," she always has the courage to fight and overcome the challenges along her narrow road to education.
With strong belief, she said, "When I lift everything to God, I am confident that I can make things happen."
Road to triumph
According to her, graduating Cum Laude is a treasure that no one can take from her, which will be her weapon in winning her family's battle against poverty. Her father Jeffrey, 43, fishes at the Paoay Lake and her mother, Rosemarie, 45, dries and sells them. This has been how they earn their living since she was in elementary. Jeffrey is a high school graduate while Rosemarie finished elementary.
Melody takes a 30-minute jeepney and tricycle rides everyday from Brgy. Suba, Paoay, Ilocos Norte to Mariano Marcos State University-College of Teacher Education in Laoag City.
She strived by all means to excel in her studies despite the scarcity her family experiences. She was a college scholar during her first year. Eventually, she became  a university scholar on her second and third years. On her fourth year, she was luckily entitled to grants through the Expanded Students' Grants-in-Aid Program for Poverty Alleviation (ESGP-PA) through the Department of Social Welfare and Development (DSWD). She narrates, "God granted my prayer to have a scholarship with greater financial assistance through ESGP-PA. It was really a great blessing!"
She also topped her class in high school and graduated as class salutatorian in elementary. "I did not want my parents to be frustrated when I entered college, so I exerted extra effort to maintain my academic record," she said.
Breadwinner's vision
As a future licensed elementary teacher in a public school and a Master's Degree holder, she wants to inculcate in the minds of her would-be students the values of faith in God and love of parents because she believes that these helped her in achieving her dreams. "Everything follows when you trust in God and obey your parents," she humbly said.
"I will take responsibility of sending my two siblings Jerome, 18, and  Charise, 7, to school. Jerome will continue his schooling because he stopped when I entered college," she thrillingly stated.
Her mother Rosemarie prays for the success of Melody in taking her licensure examination. She said, "I am proud of my daughter's achievement! Not only I but also our relatives and her grandparents are proud because among the grandchildren, Melody is the first to graduate from college."
Melody likened ESGP-PA to a candle which lights the way and kindles hope to every student who strives hard to make his/her dreams come true. (by: Jaesem Ryan A. Gaces, Information Officer II/Pantawid Pamilya)