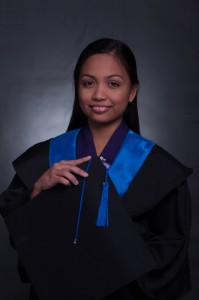 Two words into her sentence, her tears started to stream down her face when asked how it feels to be a Cum Laude. Unable to speak because of overwhelming emotions, her equally tearful mother decided to jump in to narrate her daughter's experiences in the past few years of trials, difficulties, and victories.
"Worth it!" were the only words that escaped Almira Moskito's mouth, but the phrase captured all the hardships and sacrifices in her pursuit to education.
According to her mother Alce, 45, "Kasla saannak a mamati a napaturposmi ti balasangmi (It is like I cannot believe that we were able to send our daughter to college and let her graduate.)" Almira is contented with what her parents can provide for her. She is also persevering and determined to achieve her dream no matter what. "Sangsangkamaysa kami a pamilya ti isu amin pait, sam-it, ken ragsak  (As family, we share together every grief, joy, and happiness)," her mother shared.
Alce also added that she was filled with mixed emotions when Almira told her that the latter will be awarded as Cum Laude upon handing her the graduation invitation.
Almira explained that she really aimed to graduate with honors upon entering college. "Isu laeng daytoy ti ammok a maisubadko kadagiti rigat iti nagannakko (Being a Cum Laude is the only and more than enough way I know to give back the selfless sacrifices of my parents.)"
Not only was she a Cum Laude, her University also awarded her with the following: Best in Student Teaching, Academic Excellence Award, and Proficiency Award.
At the age of 21, she finished her Bachelor of Secondary Education Major in Mathematics degree at the Don Mariano Marcos Memorial State University-North La Union Campus (DMMMSU-NLUC) in Bacnotan, La Union. After graduating from high school, she worked as a house helper in Baguio City and as a sales lady in Divisoria for two years.
"Though I only enjoyed my educational grant from the Expanded Students' Grants-in-Aid Program for Poverty Alleviation     (ESGP-PA) during my fourth year, it was really a big help in augmenting my expenses and we did not have to borrow money anymore," she narrated.
Almira, the eldest of five siblings, grew up in Brgy. San Cristobal, Bangar, La Union where her mother serves as a health worker and her father, Camillo, Jr., 45, a Brgy. Kagawad. "I want to inspire my siblings to value education which I will also be imparting to my future students."
Her mother told that her daughter finished the degree she started. Alce stopped taking  Bachelor of Elementary Education during her first year in college. "Though I did not make it, with Almira's achievement, it seems like I already achieved my dream of becoming a teacher," she proudly claimed.
Almira promised herself not to shed tears anymore when she reminisces the challenges that she and her family went through, but may eventually give in when triggered by seeing  little by little the fruits of her labor in building a contented, better life.
Many things ought to happen in the next few days, but Almira nailed it when she uttered, "Success is strived for, not waited for."  (by: Jaesem Ryan A. Gaces, Information Officer II/Pantawid Pamilya)