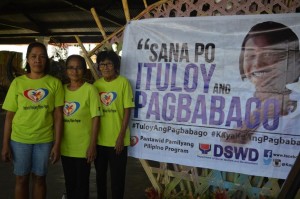 From sun up to sun down, the World Bank (WB) documentary team filmed the usual chores of the Martinez Family, Model Pantawid Pamilya Family in Laoag City, during the WB's Completion Mission Field Visit.
Each detail of their daily routine as a family, community member, and especially as a Pantawid Pamilya beneficiary was filmed.
According to Angelita, 55, the mother, she felt like a celebrity with cameras following her wherever she went and whatever she did.
She added that this is now her chance to show how productive, innovative, and determined Pantawid Pamilya beneficiaries are just to survive everyday living. She also showed how close their family is as they enjoy the simplicity of their life.

Angelita wakes up as early as 3:00AM to prepare for the day. She goes to the market to buy vegetables and other items for her Nego Cart to be sold in their neighborhood and adjacent barangays by 6:00AM. Her husband, Sabino, 54, is a tricycle driver and a freelance laborer.
The couple is blessed with eight children who excel in their classes and chosen field of specialization and are exerting extra effort to finish their studies (high school and college). Carl Joseph, sixth child, is presently a scholar at the St. Joseph High School and top of his Grade 10 class. He was also one of Region 1's representatives to the National Schools Press Conference held recently in Koronadal City, South Cotabato. He was also hailed the first Regional Winner on the Search for Exemplary Pantawid Pamilya Children in 2012. Christopher, 12, youngest, is also an achiever at the same school.
The documentary  will also feature other family beneficiaries from other regions to showcase their inspiring life journey under the Program. (Jaesem Ryan A. Gaces, Information Officer II/Pantawid Pamilya)