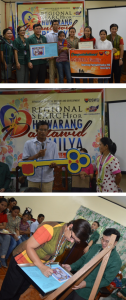 Achuela Family in Brgy. Salbang, Paoay, Ilocos Norte maintains strong families ties. Conrado is a solo parent who responsibly raises his four daughters namely Hazel, Amabel, Fenelyn, and Glenda with good values and guidance of the Almighty. His daughters excel academically and in extra-curricular activities in school. He is a tenant, farmer, and a leader/member of some community groups.
Conrado takes pride in their noble family traits, humble accomplishments, and community contributions. He believes that their strong faith in God made them top this year's Regional Search for Huwarang Pantawid Pamilya.
Recently, the Department of Social Welfare and Development Field Office 1 (DSWD FO1) announced the Achuela Family as the first prize winner of the just concluded annual Regional Search. (top photo)
As Conrado accepted the key of responsilibity from Ms. Isabel Tusnoy, Outgoing Huwarang Pantawid Pamilya from Adams, Ilocos Norte, he assured that his whole family will continue being a model family to their co-beneficiaries and their community. He further added that he will continue to uphold and advocate the ideals of the Pantawid Pamilyang Pilipino Program. (middle photo)
DSWD FO1 Officials headed by Regional Director Marcelo Nicomedes J. Castillo personally handed the Certificate of Recognition, Plaque, and cash prize worth Php20,000.00 to the Achuela Family in the presence of Paoay Municipal Mayor Hon. Dolores Clemente.
The members of the Regional Management Committee with the LGU representatives also wrote inspiring messages on customized and personalized family pictures awarded to the Achuelas and co-awardees.
Among the awardees are the Zambrona Family from Santol, La Union; the Aquino Family from Suyo, Ilocos Sur; and the Lambino Family from Dagupan City, Pangasinan who garnered the second, third, and fourth places, respectively.
Certificates of Participation, Plaques, and cash prizes worth Php15,000.00, Php10,000.00, and Php5,000 were also awarded to the respective families.
Dir. Castillo challenged the awardees to stand more being good models in their own community because they are the face of the Program that the community will reflect.
The Achuela Family will also represent the region to the National Pantawid Pamilya Family Day in Pasay City on 4 October 2015, wherein the result of the National Search shall be announced. Based on communication received from the National Program Management Office, the family is one of the top 5 national finalists hence will undergo field validation. (by: Jaesem Ryan A. Gaces, Information Officer II/Pantawid Pamilya)