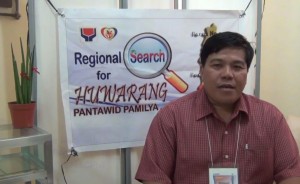 "We did not just visit these amazing families, we were also inspired by their life changing stories brought by the  Pantawid Pamilyang Pilipino Program," shared Chaplain Reginaldo dela Peña, Regional Director of the National Auxiliary Chaplaincy Philippines (NACPhil).
Pastor Reginaldo was one of the four validators during the regional search for Huwarang Pantawid Pamilya 2015. Other validators were from the Department of Health, Department of Interior and Local Government, and DZAG Radyo ng Bayan Agoo, La Union.
The search recognizes family-beneficiaries who maintain strong family ties, demonstrate Filipino values, and have a positive impact in the community where they reside.
Huwarang Pantawid Pamilya is an annual search conducted by the Department of Social Welfare and Development (DSWD) as a way of promoting Pantawid Pamilyang Pilipino Program as a source of responsible and model families. These families shall be Program ambassadors, serve as resource persons in Family Development Sessions (FDS) and any activity where they could share their knowledge and experiences, and help in the advocacy efforts of the Program.
According to Pastor Reginaldo, he and his co-validators learned many things and insights from the four families who competed in the regional search. "I was moved by how these families survive in a very simple way of living. They have their own principles in life guided by their strong faith in God."
He also added that these family-contestants across the region have something in common – their motivation and courage to fight poverty by maximizing their own skills and knowledge to achieve self-sufficiency while practicing all the things they learn in the FDS.
With the help of DSWD, Pastor Reginaldo believes that the lives of these families will be uplifted. "The efforts of DSWD in guiding and giving social services to these families are paid off because I witnessed their stories of change with my eyes," he added. (by: Jaesem Ryan A. Gaces, Information Officer II/Pantawid Pamilya)