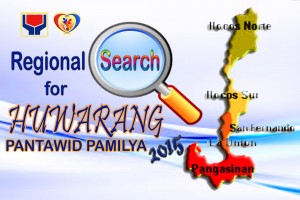 The Search for Huwarang Pantawid Pamilya 2015 is finally over. The Department of Social Welfare and Development Field Office 1 (DSWD-FO1) will be announcing the regional winner during the Family Week Celebration this September.
Four provincial winners competed in the regional search — Achuela Family from Paoay, Ilocos Norte;  Aquino Family from Suyo, Ilocos Sur; Zambrona Family from Santol, La Union; and Lambino Family from Dagupan City, Pangasinan.
Regional validators were from the Department of Health (DOH), Department of Interior and Local Government (DILG), DZAG Radyo ng Bayan, and National Auxiliary Chaplaincy Philippines (NACPhil).
According to the regional validators, these families who competed for the search are living testimonies of the positive impact of Pantawid Pamilyang Pilipino Program.
Achuela Family in Ilocos Norte maintains strong families ties. Conrado is a solo-parent who responsibly raises his four daughters namely Hazel, Amabel, Fenelyn, and Glenda with good values and guidance of the Almighty. His daughters excel academically and in extra-curricular activities in school. He is a tenant, farmer, and a leader/member of some community groups.
In Ilocos Sur, Aquino Family extends services, assistance, resources, and skills to their neighbors and community as well. Arnel, the father, also acts as a mother to his son Alvin, 10 and daughter Mary Grace, 12 tilling their own agricultural land, also continues being charitable to neighbors by helping them in any way he can. His wife is an Overseas Filipino Worker for six years now.
Simplicity of life is being enjoyed by Zambrona Family in La Union. In a modest dwelling lives a very strong family with two children namely, Norly and Raniel, Grades 8 and 2, respectively, who academically excel in their class. Ralyn, mother,  is a Child Development Worker aside from her other sources of income while Norberto,  father,  is a farmer. This family is bounded with their strong faith in God, as they are also active church members.
Lastly, Lambino Family in Pangasinan is blessed with their singing talent. Music inspires the family to brave the challenges that may come along. All the 6 children are responsible and volunteer to help their parents, Julius and Lonie, in their small eatery and variety store. They share the prizes they get from singing contests with their neighbors. This is their way to inspire their fellow Pantawid Pamilya beneficiaries to unleash their talents to earn a living.
These four families are all deserving but only one of them will be declared as Huwarang Pantawid Pamilya 2015 in the region. (by: Jaesem Ryan A. Gaces, Information Officer II/Pantawid Pamilya)