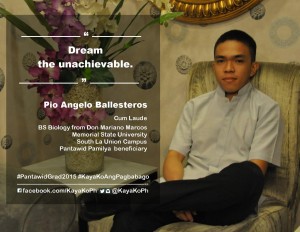 "I am expecting for the best, but I am also prepared for the worst," 20-year old Pio Angelo Ballesteros courageously claimed as he starts establishing his career path after his graduation this year from the Don Mariano Marcos Memorial State University-South La Union Campus.
Second child to an unemployed father and a barangay secretary mother, Pio recognizes the Expanded Students' Grants-in-Aid Program for Poverty Alleviation (ESGPPA) of the Department of Social Welfare and Development (DSWD). "Napakalaki po nitong tulong (It is really a big help)," he said.
Pio believes that graduating Cum Laude with the degree of BS Biology is his gateway to realize his dream of becoming a successful medical doctor someday.
Target aimed
In his quest for his dream, he plans to work in the meantime to earn for his future medical studies. He is in the process of qualifying for a research assistant post in a reputable university.
To beef up his credentials and increase probability of landing a better-paying job, he plans to take a Master's Degree next year. Setting aside financial constraints, he is still determined to triumph over his career challenges.
Sure hit
According to Pio, he will not waste this chance because he considers this job opportunity as his stepping stone to reach his ultimate dream to be part of the medical field. He added, "I do not have to be afraid to do things just because of financial constraints; I visualize a secured future for me and my family."
A proud product of ESGPPA, Pio is leaving a mark on the government's effort to provide access to quality education to poor but deserving students. With bright perspectives brought by values gained by the family, indeed, great changes can happen through Pantawid Pamilya. (by: Jaesem Ryan A. Gaces, Information Officer II/Pantawid Pamilya)