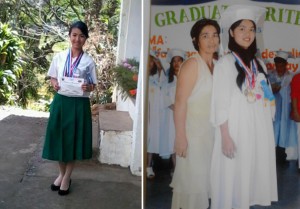 Both graduated high school with flying colors and took poverty as their inspiration in achieving their dreams through hardwork and perseverance.
Kankana-ey girls, Alyza Joy Supanga and Denia Sung-ag, wanted to be successful someday in the professional world that is why they strived hard in their studies that led them to graduate as valedictorians of their respective classes. They believe that their quest for a brighter future is ensured with their noble achievement.
Alyza, 16 from Brgy. Balbalayang, and Denia, 15 from Brgy. Lipay Este, studied at the Balbalayang High School and Lipay Integrated School, respectively.
Valedictorian's secret revealed
"Through my strong faith in God, I was able to make it to the top of my class. I acknowledge His grace which I consider the secret of my success," said Alyza.
She landed either as first or second honor during her first to third year in high school, so she put more effort in her studies to sustain this and eventually succeeded to be the class valedictorian.
Jose, 52, and Yolanda, 47, proud parents of Alyza, stated that the success of their daughter is the realization of their dreams of also finishing their education. They only earn a small amount from farming, but they still encourage her to take up Bachelor of Science in Secondary Education Major in English despite financial challenges. Alyza therefore decided to work this summer in Baguio City.
Pantawid, gateway to a brighter future
Denia's family of 10 survives through farming of both her parents, Dionisio, 61, and Jane, 48, who try to budget their small income. She said, "Being a Pantawid Pamilya beneficiary means an opportunity for a better life through education, which is why I grabbed this chance and motivated myself to study hard to show that I deserve the assistance given by the government through the cash grants we receive intended for education. I also want to pay back the sacrifices of my parents."
Since Grade 3, she is consistently on top of her class and was eventually awarded with the highest academic honors. She admits that she is not aiming to be the best, but she keeps in mind to maintain her high marks.  Best in English, Filipino, Mathematics, and Science and Technology are among her special awards during their graduation. This made her decide to take up Bachelor of Science in Secondary Education Major in English.
Though living in far flung areas, with their dreams, Alyza and Denia can go as far as they can and reach the peak of their success carrying the ideals of a fighter chasing a better life. (by: Jaesem Ryan A. Gaces, Information Officer II/Pantawid Pamilya)