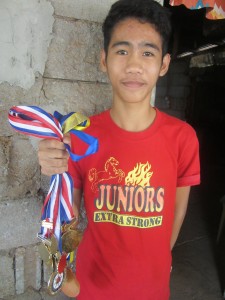 Steven Jim Andres, 16, a Pantawid Pamilya beneficiary from Brgy. 21, San Agustin, San Nicolas, Ilocos Norte is the Class  Valedictorian of San Nicolas National High School-Bingao Campus.
"I was then speechless when I was announced that I am the Class Valedictorian because I never expect this to happen", he said.
According to him, he just did his very best and focused always on his studies. Because of that he is always on top of his class since his first year except from his third year wherein he was the second honor.
His noble achievement and recognition brought honor and pride to his humble and simple family. He believes that this is the start of a better life for his family because through education he can land to a highly paid job that could uplift their standard of living. He shares his medals and awards to his parents, Esteban and Carmelita for their unending support and priceless sacrifices.
"Pantawid Pamilya gave me the chance to have a quality education and honed my capabilities to become a better individual in the future, which I can consider a lifetime treasure", Steven narrates.
Steven hopes of becoming a Licensed Civil Engineer someday. He claims that he will pursue his dream profession no matter what happens. Though he admits that it is impossible for his parents to send him in college, he still hopes and prays for the best.
He added that if ever he will become a Licensed Civil Engineer, he wants to work here in the country so he could serve and pay back to the government through practicing his chosen field of specialization.
Carmelita feels so proud and joyful of Steven being awarded as the Class Valedictorian. According to her, she sees Steven's passion in studying because he wants a better life in the future and she believes that his son can make it to the fullest of his dreams. (by: Jaesem Ryan A. Gaces, Information Officer II/Pantawid Pamilya)