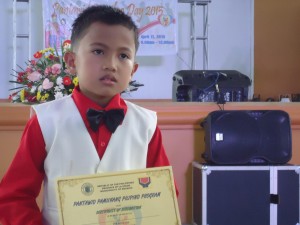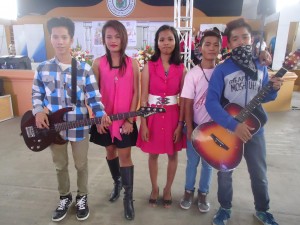 "I believe that Pantawid Pamilya beneficiaries here have hidden talents worthy to be showcased. Also, they are active citizens who are not way behind the different sectors of our place," said Municipal Mayor Bellarmin C. Flores III of Rosario, La Union.
This year, the Municipal Social Welfare and Development Office (MSWDO), through Ms. Grenaflor M. Magsakay, launched the Pantawid Pamilya Day 2015 as one of the highlights of Linubyan Festival. All the 2,456 beneficiaries in 33 barangays were clustered and every cluster supported their contestants in the talent competitions dubbed as Pantawid Pamilya Got Talent and Pantawid Pamilya Sessionistas.
Marc Ivan Obanos, a nine-year old chiild representing Cluster 1, was adjudged as the Champion of the Pantawid Pamilya Got Talent. The crowd was enchanted with his charming and powerful voice while rendering an Iloco Folk song entitled 'Riribok'.
Meanwhile, a group of teens comprised of Jojo Clonge, Jhoy Ducusin, Mariafe Anhonette Galera, Marvin Estacio, Reymark Bumanglag representing Cluster 11 conquered the center stage and were named the Pantawid Pamilya Sessionistas. The group rendered a series of mashed up foreign and Filipino love songs of their own arrangement.
Pantawid Pamilya Got Talent Champion Marc Ivan and the Champion Pantawid Pamilya Sessionistas received a certificate and a check prize worth P3,000.00 and P5,000.00, respectively.
Elimination rounds were conducted a few weeks before the actual competition. The beneficiaries watched three contestants and groups that made it to the final round; excitement filled the atmosphere for this first Pantawid Pamilya Day 2015 in their town.
The Provincial Link of La Union, Mr. Christopher Ollero; Social Welfare Officer III of La Union, Ms. Chrispearl Abenoja; and Administrative Assistant II, Ms. Claire Estoque, served as the judges of the said talent competitions.     (by: Jaesem Ryan A. Gaces, Information Officer II/Pantawid Pamilya)