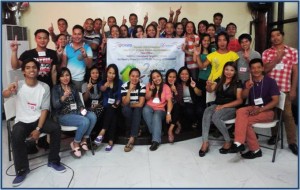 The Department of Social Welfare and Development – Field Office I through the National Household Targeting System for Poverty Reduction (NHTS-PR) or Listahanan is on the process of hiring and training Field Support Staff broken down as Area Coordinators, Area Supervisors, Enumerators, and Encoders for the 2nd Round of Nationwide Household Assessment to identify poor and near poor families deserving of assistance from social protection programs and services.
Listahanan in Region I will cover 928,633 households in all rural and urban areas, particularly, 111,464 households in Ilocos Norte, 138,769 households in Ilocos Sur, 143,262 households in La Union and 535,138 households in Pangasinan.
The 1st batch of Area Coordinators was already trained last 23-27 March 2015 at Kultura Splash Wave Resort, Pugo, La Union while the 2nd batch of Area Coordinators training will be on 6-10 April 2015.
After the training of all the 77 Area Coordinators, 387 Area Supervisors and 1,935 Enumerators will then be trained by their assigned Area Coordinators together with the National Household Targeting Unit Staff of DSWD-FO 1 to prepare them in visiting every household in their designated barangays for them to gather needed and reliable information from the respondents.
Moreover, the data to be collected by the Area Coordinators, Area Supervisors and Enumerators would then be encoded by 262 Encoders in the electronic database of DSWD to be shared with other national government agencies (NGAs), local government units (LGUs), non-government organizations (NGOs), and civil society groups having a Memorandum of Agreement with DSWD.
Policy and Plans Division Chief and DSWD-FO 1 Listahanan Focal Person Anniely J. Ferrer is optimistic about updating the database of poor households for it is a chance to revalidate and re-assess if there is any improvement in the life of poor households that were first assessed in 2009 and also to ensure that the limited resources of the different Social Protection Agencies would reach the poorest of the poor. (by: Jaymante Pearl B. Apilado, Administrative Assistant III, NHTS-PR/Listahanan)