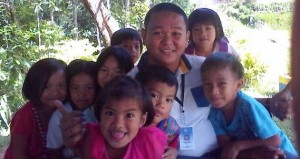 A registered nurse by profession, Conrado Y. Benitez, 28, single, of Bayambang, Pangasinan, is a Kapit-Bisig Laban sa Kahirapan Comprehensive and Integrated Delivery of Social Services-National Community-Driven Development Program (KALAHI CIDSS-NCDDP) Community Empowerment Facilitator (CEF) of the Department of Social Welfare and Development (DSWD).
Not minding the tasks and responsibilities as a CEF, Conrado accepted the career offered to him in the community as all he had in mind was to have a decent job that could compensate his needs and wants, considering himself fortunate to be employed when millions of others are not. Realizing later on, as he progresses in his new career advocacy as an empowerment facilitator, that driving people in the community to embrace the idea of empowerment is not an effortless task. Aside from dealing with people from different origins, culture, and attitude, he strived to manage his emotional distress of being away from his family, overcome challenges in adapting himself to an environment he is not accustomed to, and brave up the travels from one barangay to another to empower a community he has just started to acquaint himself with.
Assigned in Barangay Lon-oy of San Gabriel, La Union, an area almost an hour travel by jeepney, Conrado considered his first meet with the people there as awkward. He said he could not stop counting the weekdays and anticipate for Fridays to come soon.
The worst situation he recalled happened during his first week as a CEF was when he started to doubt on what the Program intends to bring to the people in the community – empowerment. He told himself that neither transformation nor empowerment was a workable goal.
Conquering one's self for the love of community work
Getting the support from his family, together with his support group who are his co-Area Coordinating Team (ACT) members and after weeks of continuous barangay activities, Conrado accepted that transforming people was not about convenience and expectations. It was not all about getting paid for service rendered as well, or whether one had a good working condition or not. Being DSWD's KALAHI CIDSS-NCDDP CEF was about dedication, commitment, and selfless concerns. "When I decided to become a DSWD employee I never thought I could embrace everything, but I did," Conrado expressed.
Now, when Conrado goes to Barangay Lon-oy and his other areas of assignment in San Gabriel, La Union, he sets off without regret and is equipped with his passion. He now sees himself not just as an ordinary worker but a new advocate of DSWD with a vocation to facilitate transformation in the communities for development through empowerment. (by: JOMARA S. CHAN, KC-NCDDP SMO/CONRADO Y. BENITEZ, KC-NCDDP CEF)