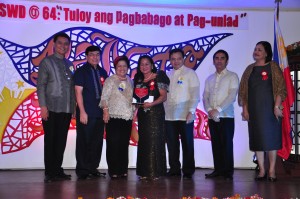 The Provincial Government of Ilocos Norte (PGIN) is the most active Listahanan data user (Provincial Category) in the entire Philippines and an awardee of the first ever Gawad Listahanan under the Pagkilala sa Natatanging Kontribusyon sa Bayan (PaNaTa Ko sa Bayan) Awards by the Department of Social Welfare and Development (DSWD).
PGIN will receive a plaque citing the highlights of the contribution and/or significance of its partnership with the DSWD and a cash incentive of P50,000.00 along with project proposal to promote Listahanan or National Household Targeting System for Poverty Reduction (NHTS-PR) Project in targeting poor families for various social protection programs and projects.
DSWD Secretary Corazon Juliano-Soliman will personally hand in the award to PGIN during the DSWD's 64th Anniversary on 28 January 2015 in Quezon City.
According to the Provincial Social Welfare and Development Officer (PSWDO) Corazon Lilian Rin, Provincial Governor Imee Marcos personally discussed with Sec. Soliman and showed her interest in utilizing the Listahanan's Database of Poor Families through entering into a Memorandum of Agreement (MOA) with DSWD.
Now, all poor families in Ilocos Norte are the priority recipients of the PGIN's Millennium Development Goals (MDG) Projects on agriculture, education, veterinary, health, fisheries, and other social services in cooperation with concerned departments.
PSWDO Rin also highlighted the concerted effort and support of all the PGIN's colleagues in the quality delivery of social services to disadvantaged and poor families of Ilocos Norte through the leadership of Gov. Marcos.
DSWD organized Gawad Listahanan to confer awards to Local Government Units providing services and assistance to the Listahanan-identified poor families. This award also aims to promote the complementation and convergence of all social protection stakeholders on the identified poor to effectively address the different aspects of poverty. (by: Jaesem Ryan A. Gaces, Administrative Assistant III, NHTS-PR/Listahanan)