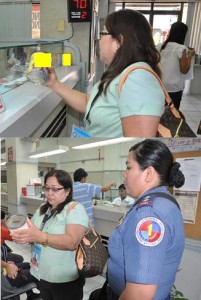 Expired solicitation paraphernalia are illegal.
Thus, the focus of the Presidential Decree 1564, otherwise known as the Solicitation Permit Law, and the Administrative Order No. 14 series of 2007 otherwise known as the Revised Omnibus Rules and Regulations on Public Solicitations.
The Department of Social Welfare and Development Field Office 1 (DSWD FO1) regulates public solicitation activities for charitable and public purposes for transparency and accountability to the giving public.
As the pilot area, all commercial establishments within San Fernando City, La Union are being visited by a Monitoring and Inspection Team composed of the DSWD FO1 Standards Unit, Philippine National Police Regional Office 1 (PNP RO1), and the City Social Welfare and Development Office represented by Social Welfare Officer 1 Rosenda A. Liwanag with the participation of the DSWD Commission on Audit (COA) headed by the Resident Auditor Ms. Virginia P. Ganaden.
As the team enters an establishment, the DSWD Manpower Development Officer 1 (MDO 1) and Focal Person on Public Solicitation Ms. Alicia Nisperos explains the provision of the said mandates on solicitation to all the managers/owners/proprietors/any representative for information and awareness.
Police Senior Inspector Nancy May S. Rafael also added that violators of PD 1564 and AO 14 shall, upon conviction, suffer the penalty of imprisonment of not more than a year or a fine of not more than P1,000.00 or both, at the discretion of the court.
MDO 1 Nisperos explained that the confiscated solicitation paraphernalia are temporarily in the DSWD's custody for safekeeping.
Forty-eight coin banks were confiscated from various commercial establishments in the city. Responsible organizations/groups who distributed the confiscated coin banks will be notified by DSWD FO1 for their appropriate action, unless these will be properly accounted for by the COA as witnessed by the PNP and the concerned distributor of coin banks. The total solicited amount shall be remitted to the National Treasury.
This activity was the result of a Memorandum of Agreement (MOA) between the DSWD FO1 and PNP RO1 represented by Regional Director Marcelo Nicomedes J. Castillo and Police Chief Superintendent Roman Alońez Felix, respectively, last September 2, 2014. (by: Jaesem Ryan A. Gaces, Administrative Assistant III, NHTS-PR/Listahanan)