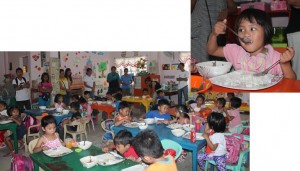 Every parent hopes for the best for his/her children. But due to scarcity, it seems impossible.
However, with the belief that education is her eternal gift to her child, Imee Mercado, 28, a Pantawid Pamilya beneficiary from Asingan, Pangasinan still sends her four-year-old daughter, Queen to school at the Poblacion Day Care Center (DCC) despite poverty.
Within the grasp
Imee foresees Queen to be successful someday, making her a proud mother. "I can now see my dreams turn into reality for my daughter", she claimed with courage. She said so when the Supplementary Feeding Program (SFP) of the Department of Social Welfare and Development was implemented at Poblacion Day Care Center.
Little by little, according to Imee, she can see the remarkable changes to Queen brought by the SFP. Her daughter is now more active in school, physically fit, and her weight even increased through hot meals served in their school.
"SFP is my partner in building a brighter future for my daughter. She is healthier now and even goes to school regularly. This manifests the start of my dreams for her to come true", said Imee.
Tighter ties, SFP flies
According to the Municipal Social Welfare and Development Officer Teresa A. Mamalio, the yearly dialogue between DC parent group officials and barangay officials has been institutionalized. This is an avenue for them to be reminded of their responsibilities along SFP and to enhance its implementation.
They are also conducting fund raising activities. Proceeds are used for the purchase of other needed materials for feeding sessions like kitchen utensils, eating paraphernalia and others.
To fast track the program implementation, MSWDO Mamalio narrated that the Municipal Mayor Heidee G. Chua, Commission on Audit (COA), Municipal Accountant, and the Municipal Budget Officer allow no bidding process.
MSWDO Mamalio also added that Mayor Chua personally distributes vitamins and deworming pills through Rural Health Units (RHUs) to all 20 DCCs every beginning of the school year catering all 750 DC pupils in the municipality.
Carosucan Norte DC Worker Mary Aguilar Ramos proudly narrated that the newly constructed (8 month old) DCC building and its beautification is the priority project of the barangay officials this year with the support of the Municipal officials. The construction of the Barangay Hall came next.
DC Worker Analyn Otamias also narrated that all the DC parents in Poblacion DCC agreed to maintain a coin bank and drop P15.00 every month since July 2014. They are using the money for buying kitchen utensils and for repairing some equipment in the center.
The joint effort of every stakeholder, close coordination, and full support of parents and officials are the key factors for a successful SFP implementation says MSWDO Mamalio. (by: Jaesem Ryan A. Gaces, Administrative Assistant III, NHTS-PR/Listahanan)